Movies We Like
The Running Man
Dir: Paul Michael Glaser,1987. Starring: Arnold Schwarzenegger, Maria Conchita Alonso, Yaphet Kotto. Science-Fiction.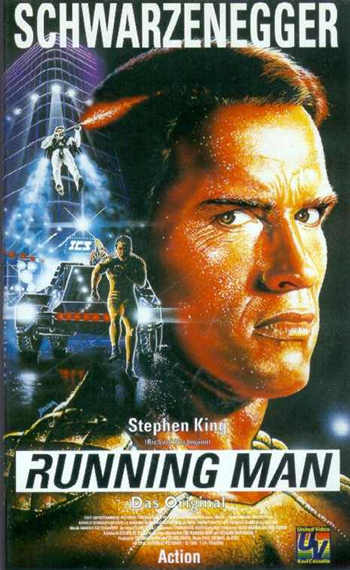 It's fairly fascinating to read the opening title crawl at the beginning of
The Running Man
and learn what the state of the world is like in the not-too-distant future. Here's a portion of it: "By 2017 the world economy has collapsed. Food, natural resources, and oil are in short supply. A police state, divided into paramilitary zones, rules with an iron hand. Television is controlled by the state and a sadistic game show called
The Running Man
has become the most popular program in history. All art, music, and communications are censored." Sheesh, for something that's supposed to happen in about 5 years, it's not too far off!
We are then introduced to the film's star, Arnold Schwarzenegger, who plays Ben Richards, a good police officer on a routine helicopter patrol hovering over the streets of Bakersfield where dozens of civilians are in search of food and shelter. He's ordered by his superiors to open fire on the unarmed crowd and when he refuses, he's knocked out by his crew and framed for the murder of hundreds of innocents and nicknamed by the press "the Butcher of Bakersfield." 18 months have passed with Ben incarcerated and after meticulous planning, he teams up with two fellow inmates, Laughlin (Yaphet Kotto) and Weiss (Marvin McIntyre), and makes a daring daylight jailbreak. Ben doesn't seem to care about clearing his name or Weiss's plans to meet up with the underground resistance, who plan to take control of the satellite feed that's been broadcasting propaganda television for years to show the world the truth about what's been going on with our government. Instead Ben just wants to hook up with his brother and escape out of the States.
But at his brother's apartment, he instead finds a new tenant, Amber Mendez (played by Maria Conchita Alonso in her absolute prime!), a musician that gets kidnapped by Ben for her passport and in turn becomes his ticket out of the country. They make it as far as the airport, before she alerts authorities to his presence and he's captured yet again. However, he's not going back to jail. This time he's going into prime time.
The Running Man
is the number one television show in the world. It's part game show/part reality show, and by God it's not too far off from some of the reality shows we've got going on nowadays. Convicted criminals are chosen as the contestants for
The Running Man
. They're set free into a series of elaborate settings known as "the game zone," but hot on their trails are the network "stalkers," a group of colorful characters with deadly weapons and wrestling-like theatrics that chase the contestants and fight them to the death!
The creator and host of
The Running Man
is TV celebrity Damon Killian, played by none other than
The Family Feud's
Richard Dawson! After seeing footage from Richard's prison escape, he pulls a few strings through the president's "agent" to get Ben as the next contestant on the show. And after conning Ben into agreeing to do the show, Killian also throws Laughlin, Weiss, and Amber into the game zone as well to fend off against the sadistic "stalkers." It's all televised, cheered on by a live studio audience, and broadcast across the streets of the city where people all bet on the potential results.
And this is where a lot of the fun comes in. You've got Subzero (Professor Toru Tanaka), a Sumo Wrestler-like character who wields a large hockey stick with a razor blade tip. The sadistic Buzzsaw (Gus Rethwisch) running around with a chainsaw. Dynamo (Erland van Lidth), an opera singing giant who shoots electrical bolts out of his fists. The jet-pack flying, flame thrower touting bad-ass called Fireball (Jim Brown). And last but not least, Captain Freedom, one of the oldest and most famous stalkers played by Jesse Ventura. And as Schwarzenegger goes up against each and every one of them, it leads to some terrific action set pieces, some kick-ass fights, as well as the best possible usages of his trademark sense of humor, which is in full effect for this flick. Seriously, I think
The Running Man
holds the record for the cheesiest Arnold one-liners, but in this movie just about every one of them is guaranteed to generate a chuckle. For example, when he takes out Subzero with a little barb wire around the neck, he addresses Killian and the audience with the quip, "Here is your Subzero. Now, plain zero!!!" When Amber asks about the whereabouts of Buzzsaw, Arnold immediately replies with, "he had to split"—a not-so-subtle reference to the stalker's fate. And of course, just before he's ejected into the game zone via a pod and a tunnel, he turns to Killian and promises, "I'll be back." To which Killian replies, "Only in a rerun."
What's also great is that while Arnold is charming us with his wild theatrics and one-line zingers, he's doing the exact same thing to
The Running Man
audience. At one point, Ben inadvertently manages to turn the tide on his public opinion and when Mrs. McArdle, Killian's number one fan, gets asked by the host whom she thinks will make the next kill, the sweet little old lady says, "Ben Richards. He's one mean mother ****er!" Of course, by convenience, it turns out that the main satellite uplink that the resistance has been searching for is hidden in the game zone and Weiss manages to break the code. Will Richards manage to clear his name and open the eyes to the general public of the government's decade-long deceptions?
The fascinating thing about
The Running Man
and the key to its box-office success, as well as its cult-like popularity now after all these years, is how it manages to cross several genres and draw a mass appeal from different types of moviegoers simultaneously. This came out in the late '80s, so if you were a fan of Schwarzenegger movies, you knew what you were getting into with his flicks as soon as you bought a ticket. If you were an action fan, no doubt you'd want to see
The Running Man
. Science fiction? Then yep, this is for you, too. Wrestling fans must've gotten a kick out of not only having Jesse Ventura here as Captain Freedom, but the large array of colorful "stalkers" who all just seem to emulate wrestling showmanship. Then there are the savvy Stephen King fans, well aware that he wrote this under his alternate pen name for non-horror fiction, Richard Bachman. By the late '80s, King's legion of fans were at a fever pitch so
The Running Man
was hot on the heels of several King adaptations including
Carrie
,
Christine
,
The Dead Zone
,
Salem's Lot
and so on and so forth. And who better to portray the evil game show host than the most famous game show host on television, Richard Dawson?!
While all of Schwarzenegger's 1980's action films are somewhat ridiculous, yet thoroughly entertaining spectacles, I think
The Running Man
is the one that stands out primarily because its sheer entertainment value is satisfying to the broadest possible audience.
Posted by:
Rob Galluzzo
Jul 3, 2012 10:56am