Movies We Like
The Long Good Friday
Dir: John Mackenzie, 1980. Starring: Bob Hoskins, Helen Mirren, Eddie Constantine. Mystery / Thriller.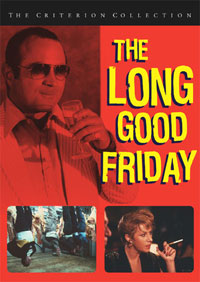 The DVD box has a blurb from an old review that compares it to
The Godfather,
but in all actuality the very British pulp gangster flick
The Long Good Friday
is much closer in spirit to TV's
The Sopranos
. Matter of fact, it's fair to say that
The Sopranos
is a direct descendent of this crime and politics saga. Bob Hoskins, in a brilliant, star-making performance, carries the film as Harold Shand and, like Tony Soprano, he's a two-bit street punk who has worked himself up the criminal food chain; instead of New Jersey he runs London. Like Tony, Harold fancies himself an ambitious businessman. He thinks the gaudy opulence he surrounds himself with gives him class and makes him legitimate. Also like the TV show, his wife plays a key role in his life - she's almost a First Lady of the underworld. Unlike Tony, Harold seems to be devoted to his wife Victoria (played by the great Helen Mirren, just hitting her stride in her important run of great film and TV roles). She seems to be a little more posh than him and like his fancy boat, helps him feel like he's arrived. Harold also has a crew of devoted lieutenants, the younger ones treat him like a father figure. Although maybe what makes these husky, bearish gangsters resemble each other most is the complicated rage that they desperately try to control. Even when they know revealing their true sociopathic nature can be bad for business, they just can't help themselves.
With
The Long Good Friday
, British television director John Mackenzie, on a very modest budget, inexplicably made probably the best English gangster film ever. Inexplicable because though the guy continued to work in film and TV for decades he never made anything else of note. Nor did screenwriter Barrie Keeffe, who also came from the small screen, and who, after the acclaim for
The Long Good Friday
, never had another screenplay produced (he went back to TV). These two guys, along with the strong collaboration from Hoskins (who also came from TV at the time), would create such a special little gem that would help usher in a mini resurgence in home grown independent British film in the '80s (British film meaning paid for by the pound, not the dollar).
Things should be looking up for London "businessman" Harold Shand, returning home from meetings in New York with the American mob has netted a lot of opportunity for him. He's excited to get back to his London Dockyards yacht and get to work on a development project that should finally make him the respectable entrepreneur he has always wanted to be. With the new Margaret Thatcher economy taking shape in England there are a lot of opportunities for a guy like Harold who knows how to use muscle or grease the pockets of the right politicians to see that all his plans come to fruition. Unfortunately, on Easter weekend members of his outfit begin getting knocked off, just as he and his wife are throwing a party on the boat to look like players in front of their American mobster investor, Charlie (Eddie Constantine, an American who became a European cult star playing a hard boiled pulp character named Lemmy Caution in
Euro Noirs
, and working with a number of seminal directors of the era including Godard, Fassbinder and Varda). Harold has to figure out who would want to hurt his business. Is it one of his friends or a sworn enemy? The film almost plays like a mystery as we tour his criminal underworld empire, torturing suspects, bitch-slapping crooked cops and beating up anyone who gets in his way. All of this leads to a thrilling conclusion where a young Pierce Brosnan, in his first film role, shows up as an IRA hitman and though he has no lines it's an important and unforgettable (albeit brief) appearance.
Before
The Long Good Friday
the list of recognizable British gangster films was bare (if you could even call
Brighton Rock
in '47,
Performance
in '70 and
Get Carter
in '71 gangster flicks).
The Long Good Friday
opened the door to the next wave of British mobsters including Hoskins again in
Mona Lisa
as well as
The Krays
,
Sexy Beast
,
Gangster No. 1
,
Croupier
and
Stormy Monday
. Then the popularity of Guy Richie's first two Tarantino-inspired crime flicks
Lock, Stock and Two Smoking Barrels
and
Snatch
opened another flood gate to less memorable titles like
Layer Cake
,
Rise of The Foot Soldier
and
I'll Sleep When I'm Dead
. Now 30-something years after
The Long Good Friday,
though no film has done it better, the British gangster film is a genre unto itself, rivaled as England's biggest film export only by those stuffy period pieces based on Cliff Notes to books you may have been forced to read in a Literature 101 class. I'll take the story of Harold and Victoria's criminal enterprise over those
Pride and Prejudice
woman any day.
Posted by:
Sean Sweeney
Sep 7, 2012 1:08pm