Movies We Like
The Cotton Club
Dir: Francis Ford Coppola, 1984. Starring: Richard Gere, Diane Lane, Gregory Hines, James Remar. Drama.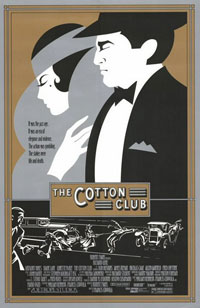 Playing like a cross between
Once Upon a Time in America
and
Purple Rain
, with a script by Francis Ford Coppola and the great Albany novelist William Kennedy (author of the depressing Depression classic
Ironweed
), based on a story the two concocted with
The Godfather
author himself Mario Puzo, director Coppola's gangster/Jazz epic
The Cotton Club
surprisingly fits in less with his
Godfather
saga, but stands up perfectly with his "experiments in style" phase he's worked on ever since burning-out after his masterpiece
Apocalypse Now
in '79. While
The Cotton Club
's two beautiful leads, Richard Gere and Diane Lane, are only able to deliver two-dimensional performances, luckily the brilliant supporting cast (led by the wonderful long-time character bad-guy actor James Remar) manages to bring a third dimension to the acting, helping to keep the film more than watchable. Aside from the acting, gorgeous cinematography, and production design from big names in their fields, cameraman Stephen Goldblatt (
The Hunger
) and superstar set designer, Richard Sylbert (
The Graduate
,
Chinatown
,
Rosemary's Baby
, etc.), is the music and musical performances led by tap-man extraordinaire Gregory Hines (
History of the World: Part 1
) and a number of outstanding re-creations of the era's legends including Duke Ellington and Cab Calloway.
The Cotton Club
's production history was mired by nightmares and legal problems (ranging from drug issues to murder) which may explain why the final product may feel a little cluttered or chaotic, but that said, it still holds up as a damn fascinating piece of entertainment.
The massive plot goes something like this... Harlem 1928, hipster clarinetist Dixie Dwyer (Gere), hopes to get hired on at the legendary Cotton Club, but after accidentally saving the life of tough guy gangster Dutch Schultz (Remar), he becomes his boy, appreciated but under his control. Things get dangerous when he falls for Dutch's girlfriend, Vera (Lane), and they carry on an affair behind his back. Cotton Club owner Owney Madden (Bob Hoskins) and his boyfriend Frenchy Demange (Fred Gwynne AKA Herman Munster) are above Dutch on the underworld food chain, they try to keep him under control but he proves just too psychotic to manage. Meanwhile a black gangster, Bumpy Rhodes (Laurence Fishburne), tries to make an inroad on Harlem's white controlled crime scene as does Dixie's ambitious trigger happy little brother Vincent (Nicolas Cage). The battle for the soul of Harlem all leads to lots of gun play and violence between black, Jewish, Irish and Italian gangsters.
The Cotton Club was famous as a joint where the white gangsters hung out while the leading black artists of the Jazz age became famous on stage. Dealing with the backstage politics, a newly hired tap dancer, Sandman Williams and his brother Clay (Hines and his real life brother Maurice) navigate the sticky race issues. The treatment of the performers goes so far as to break up Sandman from his new main squeeze, singer Lila Rose Oliver (Lonette McKee of the original
Sparkle
) who has her sights on Broadway (the white entertainment world) and even from his brother. The best scenes in the movie reveal the performers rehearsing or just messing around, like when the Hines brothers are joined in an impromptu afternoon tap-off with a bunch of old hoofers.
At the time the film was considered a financial bust, making back only half the $50 million budget for its private investors (Las Vegas money men, brothers Fred and Ed Doumani), with legendary producer Robert Evans overseeing the production (much of this is covered in the brilliant Evans autobiography and documentary
The Kid Stays in the Picture
). Eventually, with another investor, Victor L. Sayyah, back and forth lawsuits and embezzlement charges were filed between Evans, the Doumanis and Sayyah, leading to investigations and the revelations that Evans was mixed up with drug traffickers and even the murder of a fringe Hollywood wannabe player, Roy Radin, who was partnered with Evans on some sour cocaine deals with
The Cotton Club
budget money. It got very messy and helped mar
The Cotton Club
's reputation as well as put an end to Evans' career as a big time producer.
Lane, Cage, Fishburne (as well as Tom Waits who pops up as the club manager), had all appeared in Coppola's previous film
Rumble Fish
. After a decade in British film and television, peaking with his exceptional performance as a hood in
The Long Good Friday
,
The Cotton Club
was a perfect introduction to American audiences for Bob Hoskins. A sensitive tough guy, he would go on to have a big career on both sides of the Atlantic. Though Remar has worked in well over 100 films and TV shows, the scary but pathetic Dutch Schultz is still the performance of his career. Then known mostly for playing creeps, most memorably for Walter Hill in
The Warriors
and
48 Hrs
, it was inspired casting to expect him to bring a new level of intensity to his arsenal.
After ruling the '70s with his screenplay for
Patton
and the four flicks he directed, all now considered classics (
Godfather 1
&
2
,
Apocalypse Now
and
The Conversation
), Coppola began the '80s with a major misfire, the unwatchable over-priced experiment
One From the Heart
. He had worked so hard to maintain his independence from the studios' grip and the
One From the Heart
's failure sent it back ten steps. He would follow it with his two teen-gang angsty melodramas,
The Outsiders
(the bright and pretty one) and
Rumble Fish
(the black & white depressing one).
The Cotton Club
was Coppola's shot at the big time again. With a powerhouse team behind him and a lot of money riding on it, the film was not too well received, but time and home watching gives us a chance to reevaluate work with different expectations. In its day
The Cotton Club
may have been disappointing, but now with a casual viewing, it's a massive achievement. It may not burrow deep into the character's psyche the way the best films of the genre do, but for pure spectacle it's stunning. It's also interesting to note that the film's main romance (Gere and Lane) or even the secondary one (Hines and McKee) prove less compelling than the minor one that isn't even spelled out fully, between the two male gangsters (Hoskins and Gwynne). Had that relationship been the centerpiece of the film, perhaps it wouldn't have been such a forgotten movie.
Posted by:
Sean Sweeney
Aug 21, 2012 6:42pm