Movies We Like
First Blood
Dir: Ted Kotcheff, 1982. Starring: Sylvester Stallone, Brian Dennehy, Richard Crenna. Action/Adventure.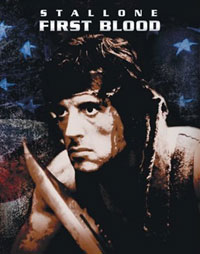 At one point Sylvester Stallone was considered a real actor, bursting into superstardom with the original
Rocky
flick, becoming a household name and even winning an Oscar for his original screenplay. He would continue to stay popular with its first two sequels, as well as some interesting (though less popular) movies like the quasi Hoffa bio
F.I.S.T
and the underrated terrorism thriller
Nighthawks
. He would hit box office gold again in 1982 with an intelligent action flick,
First Blood
, and though he would go on to become a global brand,
First Blood
would be more or less the last time he would push himself as an actor (though about once a decade he has managed to pop up in thoughtful, quality non 'roid roles like
Cop Land
in '97 and
Rocky Balboa
in '06). Though some of his roles from the '80s have become almost camp classics of bad (
Cobra
,
Tango & Cash
),
First Blood
was about the last time he was able to combine both muscle and a quality script to perfectly suit his oversized ego and release a flick that still holds up today.
Ted Kotcheff was a television director in the '60s, but by the next decade he hit the big screen with a string of fairly popular flicks (
The Apprenticeship of Duddy Kravitz
,
Fun with Dick and Jane
and
North Dallas Forty
). In '82 he made the little seen but admirable cult deprograming drama
Split Image
as well as
First Blood
. It would be his peak both commercially and critically before slowly moving back to TV assignments. Still it's an interesting filmography and important to explain why
First Blood
works so well. Kotcheff was a character driven director, not an action hack.
Stallone plays a troubled, lonely Vietnam Vet named John Rambo. Of course the name "Rambo" would eventually become synonymous with bad, overblown, sloppy action movies, but here the word Rambo wasn't even part of the film's original title (though you wouldn't know that by looking at the DVD box). Traveling aimlessly in the Pacific Northwest John hopes to maybe hook up with old 'Nam buddies, but they have all died. Like most Vietnam vets in films of the era (
Billy Jack
,
Taxi Driver
,
Black Sunday
, etc.) he's a shell of a person, either too damaged for proper society or still fighting the war in his head. Harassed by a small-town, tough guy sheriff Teasle (long time character actor, Brian Dennehy in one of his best performances), John refuses to leave the sleepy town quietly, is arrested and then abused by more yahoo cops (including young David Caruso). When they try to give him a shave he has Hanoi flashbacks and goes all
Manchurian Candidate,
beating up the whole force and escaping to the cold forest in just a tank top. We come to find out he's no ordinary vet, but a highly decorated ex-Green Beret and he's perfectly adept at both surviving and killing in the harsh mountain terrain.
The cops form a posse and look for him, but he sets up crude booby traps for them, with one cop stating the obvious, "we ain't hunting him, he's huntin' us." Next the state police and then the national guard join in the hunt, leading to the film's one misstep: the wacky hijinxs of the guardsman is supposed to show how out of their element they are, but the comedy rings fake. Rambo's old commanding officer from 'Nam shows up, Colonel Trautman (a poker faced Richard Crenna, always reliable), to try and talk him out but he just manages to get Teasle more agitated. It all leads to a showdown back in town with Rambo reeking havoc. Finally Trautman reaches him and pleads with him to surrender, but not before Rambo throws a tantrum and cries like a baby whining about how hard civilian life is: "Back there I was in charge of million-dollar equipment, here I can't even keep a job parking cars." Finally Rambo, like Billy Jack, is arrested in front of hordes of cop cars while maintaining his dignity (with the generic voiced Dan Hill singing the non-hit theme song "It's a Long Road").
Based on a 1973 novel by David Morrell in which apparently a much less sympathetic Rambo kills many more people, the film, when seen through the eyes of the cops, is a story about a psycho killer on the loose. But most of the film sticks to the star power of Stallone, making Rambo a poor, misunderstood killing machine. After all he just wanted to get a bite to eat. The stunt work in the action sequences is mostly fantastic with a solid adrenaline rush executed about every fifteen minutes. Along with the terrific Disney flick
Far from Home: The Adventures of Yellow Dog
,
First Blood
is one the best "how to survive in the wilds of the Pacific Northwest" flicks, though
First Blood
may trail the intense kiddie adventure for total realism.
Like
Rocky
,
First Blood
's reputation has been mired by some half-assed sequels. Both
Rocky
and
First Blood
are respectable mature movies, excellent within their genres. If
First Blood
picked at the wound of the Vietnam war, its first sequel
Rambo: First Blood Part II
completely opened the wound as Rambo ridiculously travels back to 'Nam to rescue surviving POWs. (Interestingly
First Blood
director Ted Kotcheff followed up the Sly opus with his own POW rescue drama, the much more credible Gene Hackman vehicle
Uncommon Valor.
)
Rambo III
found the now hulking vet traveling to Afghanistan to lead the rebels against the Soviets, unfortunately Bin Laden was not a character in it. Though Rambo still sported the blow-dried mop and bandana, by now any resemblance to an actual human being has been lost, as has the delicate political themes of the original flick. Rambo went from a soppy outcast to a superhero and the series became just another Reagan era American flag waving propaganda machine. There would also be an unwatchable animated series
Rambo: The Force of Freedom
. Twenty years later a desperate Stallone would return to the character, adding writer and director as well as star to the back of his folding chair, with the aptly titled
Rambo
, where the hero takes on Burmese pirates to save a group of Jesus freaks. The kill count from Rambo in each of the subsequent films rises and by the last one Rambo seems to be trying to equal the Tet Offensive. Like Stallone himself, Rambo has gone full circle from the likable lug in the taut
First Blood
to a degraded cartoon spoof of what quality used to look like.
Posted by:
Sean Sweeney
Aug 6, 2012 5:22pm