Movies We Like
Not Quite Hollywood: The Wild, Untold Story of Ozploitation!
Dir: Mark Hartley, 2008. Documentaries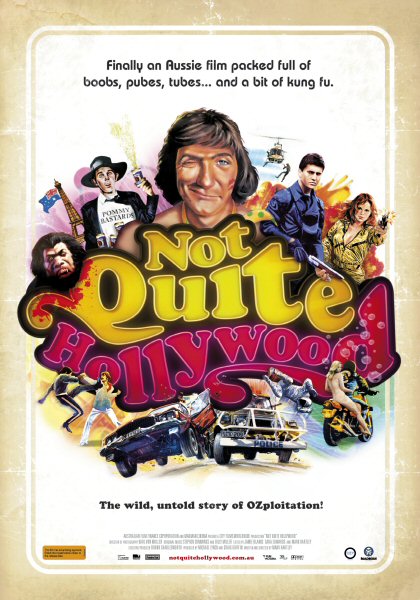 While Peter Weir and Fred Schepisi were putting Australian cinema on the map in the 1970s with films like
Picnic at Hanging Rock
and
The Devil's Playground
, an amazing underworld of exploitation cinema was also happening Down Under full of sex and violence, exuberantly captured by director Mark Hartley in his slam bang documentary
Not Quite Hollywood: The Wild, Untold Story of Ozploitation!
Like his more recent ode to Filipino exploitation flicks,
Machete Maidens Unleashed
, Hartley has found the perfect formula for honoring the less honorable world cinema. Tracing Australia's growth from sexploitation through stuntploitation and finally peaking with George Miller's masterful
Mad Max
and
Mad Max 2: The Road Warrior
(known in the U.S. as
The Road Warrior
). With a plethora of wall-to-wall clips and both informative and entertaining talking heads telling the story including Quentin Tarantino, George Lazenby, Brian Trenchard-Smith, John Waters, and Richard Franklin, this movie is an absolute blast.
While films were filmed in and about Australia, they were usually films like
Wake in Fright
and
Walkabout
that were made by foreigners; originally Australia's most popular film exports were soft porny sex comedies with such titles as
The Naked Bunyip
,
Alvin Rides Again
, and
Again! And Again! And Again!
and
The Sex Therapist
. While Australians were enjoying idiotic homemade comedies with the "Ocker" films (which crudely made fun of Australian hick values) like
Alvin Purple
,
Stork
, and
The Adventures of Barry McKenzie
(directed by Bruce Beresford who would eventually go more high brow with his Australian masterpiece
Braker Morant
).
But what really put Australian exploitation on the map was the high octane violence and stunts films like
Stone
,
Death Cheaters
, the culty
Mad Dog Morgan
, and director Brian Trenchard-Smith's
The Man From Hong Kong.
Trenchard-Smith came up with the amazing idea of combining stunts with a rock band known as Sorcery which led to the ridiculously inane
Stunt Rock
(he would continue directing with the equally fascinating
Turkey Shoot
and
Dead End Drive-In
).
Stunt Rock
was also an acting vehicle for legendary Australian stuntman Grant Page, playing himself, who seemed to have a hand in all of Australia action movies.
There's also a long list of Australian horror flicks and Hitchockian thrillers that are analyzed including
Long Weekend
,
Patrick
,
Strange Behavior
,
Thirst
, and, most visibly,
Road Games
. By the '80s, with the success of
Mad Max
and home grown quality films like
Breaker Morant
and
My Brilliant Career
, the fun slowed as pressure was put on the industry to comply with mainstream commercial expectations resulting in the visually overwrought
Razorback
and kiddie action like
BMX Bandits
.
While the treasure trove of clips is amazing it's the stories behind the films and the personalities that worked on them that prove most fascinating. The era was filled with both the dreamers and the get-rich-quick schemers. They usually were unaware of the waves they were making away from their island, where a generation of film geeks like Tarantino actually knew who Grant Page was. As a kid in the '80s, films like
Road Games
,
Razorback
, and
Dead End Drive-In
become favorites of mine through the magic of late night cable, but I had no idea the madness behind them or the genre they fell into. Like most of the best cinema documentaries
Not Quite Hollywood: The Wild, Untold Story of Ozploitation!
exposed me to tons of titles I wasn't aware of and a few made my personal queue. I immediately had to run out and rent
Stunt Rock
; well worth the hustle. Hartley has moved to the top of the film documentarian class and I'm already excited to see his next flick—a doc on the history of producers Golan and Globus's Cannon Films (though less welcome, he's apparently doing a remake of the coma-ESP thriller
Patrick
). Hartley has a way of finding the fun in stories about cinema's underbelly and the junk cinema they created, it's not quite Hollywood but it's something pretty special on its own level.
Posted by:
Sean Sweeney
Feb 1, 2012 5:03pm