Movies We Like
In The Heat Of The Night
Dir: Norman Jewison, 1967. Starring: Sidney Poitier, Rod Steiger, Warren Oates, Lee Grant. Drama.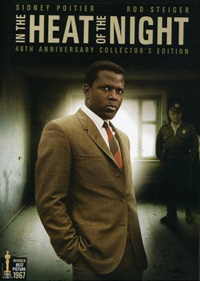 The racial politics of
In The Heat Of The Night
may not be as shocking or edgy today as they were back in the bad old days of 1967. Matter of fact, it may even be a little corny and perhaps the drama can feel obvious, but as a piece of detective pulp it's solid, and as a showcase for the great Rod Steiger at his scenery-chewing best it's more than watchable. This was a period full of Southern dramas with some then socially hot elements -
Hurry Sundown
,
...tick…tick… tick…
,
The Liberation Of L.B. Jones
,
The Klansman
, even
The Chase.
While those films are all utterly dated (they would seem a little more brave if they had been produced ten year earlier),
In The Heat Of The Night
holds up fairly well, because it's a mystery film first, with a lot of style, and an all-star team behind the camera. It's also the best of Sidney Poitier's groundbreaking run of films in the '60s that made him the first black box office superstar.
In Sparta, Mississippi patrolman Sam Wood (the great character actor Warren Oates) makes his nightly rounds, after peeping at a topless woman he makes a startling discovery – the murdered body of wealthy Industrialist, Philip Colbert. Newly installed police chief Bill Gillespie (Steiger) sends him to check out the pool hall and bus station for any drifters, and wouldn't you know it, Wood finds a well-dressed black man with a wallet full of bills waiting for a bus. The cops think they have an open and shut case, until they find out the black man, with a clear alibi, is actually Virgil Tibbs (Poitier), a Philadelphia homicide detective just passing through. The fact that he makes more money than them, is obviously smarter and is black throws these backwoods hicks for a loop. Tibbs wants to leave town but after clearing another wrongly accused guy, he impresses the deceased man's wife, Leslie Colbert (Lee Grant), and she puts pressure on Gillespie to keep Tibbs on the case. And of course, Tibbs' super-sleuthing leads to budding respect from the otherwise racist cops.
The actual murderer or how Tibbs figures it out is totally convoluted, but still fun in a Sherlock Holmes way. Some of the local racists who want to kill Tibbs are right out of central casting. Famously, a showdown between Tibbs and a rich white man, Endicott (Larry Gates), is now a classic moment as Endicott slaps Tibbs in indignation and Tibbs slaps him back. I can imagine audiences in '67 standing up and cheering. He's an arrogant businessman with black servants who had never been challenged by a black man before, but baby, the times they are a changing!
The best things about
In The Heat Of The Night
and what makes it more than watchable are the moments between Poitier and Steige; for that matter, every time Steiger is on screen, chewing gum in his tinted sunglasses, his huge gut punching through his uniform. His Gillespie is a sad little man, new to Sparta and under pressure from the local power base to close the case. Even when he begins to realize that's he's just a puppet and not even respected by his underlings, he may be too weak to do what's right. When Tibbs shows sympathy for his loneliness, instead of accepting the gift of friendship, Gillespie reacts like a typical racist and verbally puts Tibbs back in place. But it's a tribute to Steiger's talent in that moment with the layers of his performance: pride, arrogance, and then shame. Beautiful, it's no wonder Steiger was one of the best actors of the 1960s, with
Doctor Zhivago
,
The Pawnbroker
, and
The Loved One
, but
In The Heat Of The Night
might have been the best role of his career.
After breakthrough roles in the 1950s in
Blackboard Jungle
and
The Defiant Ones
, Poitier reached the big time by becoming the first black man to win an Oscar for his performance in the cornball
Lilies Of The Field
. But '67 would be his peak year with three smash hits: the awful but beloved
Guess Who's Coming To Dinner;
the kooky British teacher drama
To Sir, With Love;
and then
In The Heat Of the Night
, in which Poitier feels a little miscast in some ways. Though Tibbs has Poitier's trademark dignity, he's also supposed to have some hardball, hep edge, that Poitier doesn't pull off. Poitier often feels more like a college professor than a mean streets cop, and he isn't believable when it comes to physicality in the action scenes. But still Poitier can be interesting to watch, with the stoic nuances he fills Tibbs with. Though he would do two more films playing Tibbs (
They Call Me MISTER Tibbs!
and
The Organization)
, he wisely stayed clear of the blah television version of the show which ran from '88 to '95. Poitier would also become an uninspired director and would continue to be a respected major star, but he would never have another film that would seep into the public dialogue like his earlier work did, as he had a hard time balancing his standing as a statesman from the glory days of Civil Rights and the new militant black attitudes that would dominate black exploitation inspired cinema of the '70s.
The first rate team behind
In The Heat of The Night
is impressive across the board. Director Norman Jewison had just come off the great liberal Cold War comedy
The Russians Are Coming, The Russians Are Coming
, hooking up with producer Walter Mirisch (
Serpico
) and using Stirling Silliphant (
The Poseidon Adventure
) to adapt the book
In The Heat Of The Night
(the first of at least six Virgil Tibbs books). Quincy Jones provided a funky blues score, with a hit theme song sung by Ray Charles. The great cinematographer Haskell Wexler (
Who's Afraid Of Virginia Woolf?
) gives the film that dramatic gritty look. Editor Hal Ashby makes the film move very smoothly and energetically; of course Ashby would go on to be on the best directors of the '70s himself, with films ranging from
Harold And Maude
to
Coming Home
.
After the hard faught Civil Rights Movement and nightly news footage of Southern cops beating peaceful protesters, mainstream audiences were finally ready to embrace a black hero who could stand up to the racist South and earn their respect. Unfortunately the film implies that there was no racism in the North, but we know now that even in a fairly enlightened city like Philadelphia a black detective had to have been a victim of much abuse from his co-workers in the '60s. The problem now with Poitier's screen persona then was that he usually won over the white racists by being perfect (in
Guess Who's Coming To Dinner
, the cards are so stacked in his favor - he a perfectly lovable doctor -that any parent who couldn't embrace their daughter marrying him looked ridiculous). But most victims of white racism were not perfect, or worse, were just normal people. The image of Poitier could be a lot for a regular-Joe to try and live up to. Still it's fun and even goosebump inspiring to see Poitier slap that rich white guy, but like most of
In The Heat Of The Night
, the jaw drop comes from Steiger's reaction (he's shocked, but you can sense he's enjoying it). Poitier provides the soapbox to feel good about ourselves and how far we as Americans have come, but Steiger provides the heart, the real human being, flawed and sometimes unlikable, but that's much more endearing than perfection.
_______________________________
In The Heat Of The Night
won five Oscars: Best Actor (Rod Steiger), Best Picture, Best Film Editing, Best Sound, and Best Adapted Screenplay. It was nominated for two additional Oscars for Best Director and Best Sound Effects.
Posted by:
Sean Sweeney
Jan 2, 2012 1:48pm