Movies We Like
The French Connection
Dir: William Friedkin, 1971. Starring: Gene Hackman, Roy Scheider, Fernando Rey. Action.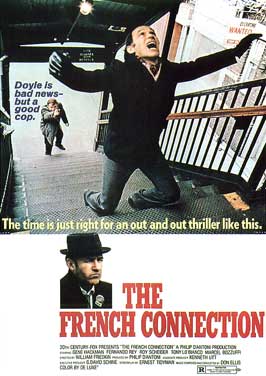 Besides still being the quintessential "cop vs. international drug traffickers" flick and winning a boatload of Oscars,
The French Connection
also helped to establish director William Friedkin and star Gene Hackman as major talents. Hackman would hold onto his status for decades while Friedkin's career would continue to rise before a major fizzle out.
In still maybe his greatest role, Hackman plays the doggedly determined New York narcotics detective Jimmy "Popeye" Doyle. Even when off work having drinks (and like most movie cops he has lots of them) he's putting a tail on potential dope-peddling mobster creeps. He plays his hunches, which have paid off before, but more often than not have gotten him in trouble or made him look foolish. He's a new kind of film cop—he's as hard-boiled as Bogart but less heroic and certainly less likable. With his overt racism and lack of ethics, he's all about busting the bad guys at any cost. With his slightly more rational sidekick Russo (Roy Scheider, in the first of his many cop roles in the '70s), they have a natural inclination to fight their bosses as much as the criminals. (Interestingly this was the same year that
Dirty Harry
was released, another famous rebel-cop.)
The film was based on a real-life case where two maverick New York City cops made the biggest drug bust in history at the time. It led to a book that became a hot property and eventually producers brought in the edgy documentary filmmaker Friedkin to bring his realistic edge to the story. Like the real- life story, on a hunch Boyle and Russo start off trailing a local mobster, Sal Boca (Tony Lo Bianco) which leads them to a Frenchman, Charnier (Fernando Rey) posing as a tourist, who they are sure is up to something wrong. It turns out they are right, Charnier is a major player in the international drug underworld. He has imported a car loaded with heroin and was just waiting to get it out of customs and finish the deal with Sal. With his dogged determination and a couple lucky hunches, it's just a matter of time before Popeye figures out what he's up to. Unfortunately Charnier becomes aware of Popeye and puts his goon Nicoli (Marcel Bozzuffi) on a minor cop-killing spree to get Popeye before he can bust him.

The French Connection
is ingenuously light on dialog; it's almost one long chase film. First there are long passages of Popeye and Russo tailing their suspects. By keeping the POV on the cop's side, Friedkin is able to create action out of the almost mundane details of a detective's daily chore of just watching a perp. Later when Nicoli tries to shoot Popeye it leads to one of the greatest and most influential chase scenes in movie history. Nicoli escapes on a Brooklyn elevated train while Popeye commandeers a civilian car and chases the train though heavy traffic. The camera and the editing continue to keep us inside Popeye's head as he dodges heavy traffic and, of course, a woman pushing a baby carriage (which since has become a car chase cliché). In another great, almost dialogue-free scene, Friedkin creates total suspense as police auto mechanics take a car apart piece-by-piece looking for hidden drugs.
Veteran action director John Frankenheimer stepped in to helm the sequel,
French Connection II
; though not as acclaimed as the original, it did offer Gene Hackman a chance to act up a storm (Popeye becomes a junkie by criminal force and goes on a harrowing detox). And then there was a short-lived TV series in the '80s called
Popeye Doyle
(starring Ed O'Neill). But most modern police procedure shows and films owe a debt to
The French Connection
. Whether it's on the streets or in the subways, Friedkin turned the natural landscapes of New York into a funhouse of mystery and action. Combining the realism of a documentary with a respect for the mundane details, he created a new kind of cop movie. Friedkin would continue to have a major impact on Hollywood with his follow-up, the giant hit
The Exorcist
, but other than his underrated masterpiece
Sorcerer
a few years later, his days of being a superstar director were over. But with
The French Connection
Friedkin did have his day of glory and managed to change the entire style of the crime film genre as well.
___________________
The French Connection
was nominated for 8 Academy Awards and won 5: Best Picture, Best Actor (Gene Hackman), Best Director (William Friedkin), Best Editing (Gerald B. Greenberg), and Best Adapted Screenplay (Ernest Tidyman).
Posted by:
Sean Sweeney
Sep 15, 2011 11:03am