Movies We Like
The Psycho Legacy
Dir: Robert V. Galluzzo, 2010. Documentary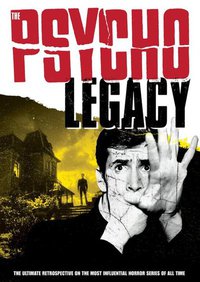 With so many books and documentaries made over the decades covering every aspect of Alfred Hitchcock's amazing career and more specifically his masterpiece
Psycho
, what more can possibly be said about the subject? Director Robert V. Galluzzo manages to find a new and surprisingly fresh angle— instead of mulling over the influences on Hitchcock, we are reminded of the massive influence
Psycho
had. With an interesting group of talking heads, all obvious enthusiasts, they first contemplate the mythology that
Psycho
brought to cinema, but quickly they get to what makes the documentary most unique which is the study of the
Psycho
film sequels that sprung up some years later. Though not as commercially successful as many current horror film series, Galluzzo's posse does manage to convince that they are worth a look.
Though the documentary only uses quick muted clips from the films, the stills and the talking heads are engaging enough that you may not even notice. It mentions early on, briefly, that William Castle spent a decade trying to rip-off
Psycho
(
Straight-Jacket
,
Homicidal
, etc.), but the dozens of French thrillers and Italian horror flicks that were directly influenced by Hitchcock are ignored. Hell, if you want to talk about
Psycho's
legacy (and Hitchcock's) Brian De Palma's had a whole career doing bad Hitchcock (until later when he discovered other genres to steal from).
The Psycho Legacy
also avoids Gus Van Sant's pointless scene-for-scene remake and the short-lived Bud Court TV Series
The Bates Motel
. No, the
Psycho
legacy these guys are itching to rap about are the three "sequels."
Psycho II
and
Psycho III
are probably mostly forgotten by casual fans, but they both deserve some credit for taking the series in interesting directions and not following the game plan of most '80s slasher flicks. In '83
Psycho II
was directed by the solid genre director Richard Franklin (
Road Games
) and besides Anthony Perkins reprising his Norman Bates role, Vera Miles returned as Lila Loomis. But most interesting was Meg Tilly playing Lila's daughter (just before breaking out in
The Big Chill
and
Agnes of God
), whom Norman falls for. A couple years later,
Psycho III
was made and it was far from an easy cash-in. Directed by Perkins, the script is wildly adventurous as Norman gets involved with a psychotic nun (Diana Scarwid). The film has an almost Italian Giallo horror vibe, distinguishing it from the pack. Neither of these stand up to Hitchcock's original, but as an actor Perkins found some new levels for Bates and they're nowhere near as lazy as most horror sequels in the '80s (look at the countless
Friday The 13th
films). And then finally Perkins returned again for a less interesting cable TV reboot
Psycho IV: The New Beginning
, directed by horror TV director Mick Garris. A number of his coworkers speak sadly about Perkins's death at age sixty, but luckily it did put an end to the series (for the most part, well, for now at least).
Casual fans might be a little surprised to hear film directors, fans, and the cast & crews from the sequels all speaking enthusiastically as if these were really important films and even vital to the legacy of the original (the way, say,
Godfather Part II
may be). Referring to the actor cast as young Norman Bates in the TV movie, one guy proclaims, "Since
E.T.
, Henry Thomas has been one of my favorite actors." Really? Except for clips of Perkins speaking to a group horror fans, no one seems to question the overall quality of the films, or ask what the point was. But that might be what makes the documentary both endearing and infectious; these are all folks who really take their
Psycho
mythology seriously.
Psycho II
is one guy's favorite movie of the '80s (along with
E.T.
and
The Blues Brothers
). Watching
The Psycho Legacy
is like sitting around with a bunch of horror nerds talking movies for ninety minutes, and that can be a lot of fun.
NOTE: The two-disc DVD is full of hours of extra material including the full panel discussion with Anthony Perkins.
Posted by:
Sean Sweeney
Sep 15, 2011 9:43am