Movies We Like
Purple Rain
Dir: Albert Magnoli, 1984. Starring: Prince, Morris Day, Apollonia Kortero, Morris Day. Music.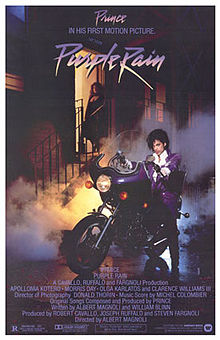 As opposed to being a dated period piece from 1984,
Purple Rain
is more like a time capsule from another planet. A truly ambitious film debut for funk 'n rock star Prince, the success of both the film
Purple Rain
and its soundtrack helped send Prince's career into another stratosphere. This kinda sorta autobiography of Prince's early days playing at Minneapolis music venue First Avenue focuses on the struggles of the brooding and mopey musician as he tries to navigate his domestic abuse impulses and his love of frilly shirts. Though completely entertaining it's actually maybe more depressing than the Eminem flick
8 Mile
though not even close to the mental anguish that the Bjork film
Dancer in the Dark
can cause. At the time of release
Purple Rain
was a massive hit but it was also justly scorned for its misogynistic attitudes towards women. Luckily now the film feels so over the top that instead of being offensive it plays more like a glammed-out cartoon.
Prince plays "The Kid," and though his band The Revolution seems to have a loyal following, the club owner (Billy Sparks) thinks they aren't drawing the crowds they should be. He seems to side with The Kid's chief rival, the zoot-suited Morris Day and his band The Time. He wants the Kid to stop doing that "one song shit" and making the kind of music that only he understands, or he's going to be axed from the club's roster. When a foxy new Russ Meyer-esqe babe, Apollonia shows up on the scene, The Kid woos her with motorcycle rides and by ogling her from behind his oversized sun glasses. Strangely he still lives with his parents, where his washed-up musician father (Clearance Williams III of
Mod Squad
fame) beats up his mother (Olga Karlatos who was in Lucio Fulci's
Zombie
) on a nightly basis—a habit The Kid seems to be picking up with Apollonia. And like the song lyrics go, "maybe I'm just like my father, too bold. Why do we scream at each other? This is what it sounds like when doves cry."
Meanwhile his band mates Wendy and Lisa (played by Wendy and Lisa) are peeved that The Kid won't listen to the song they wrote and there's a dude in the band who always wears full surgical scrubs (including the mask). Morris and his sidekick (Jerome Benton who would go on to play Prince's sidekick in his follow up
Under the Cherry Moon
) talk Apollonia into fronting their sexy girl group, which sends The Kid on another hissy rampage. This is followed by his father killing himself; his last words to his son were "never get married." Finally The Kid must come up with one killer song to keep his job, win back the girl, and explain all his antisocial behavior…. Ladies and gentlemen that song is called "Purple Rain."
After a number of hits on "black" radio and critically acclaimed albums like
Dirty Mind
and
Controversy
, Prince had his first across-the-boards breakthrough with his double album
1999
. Coming at a time when MTV was finally starting to showcase non-white videos, the singles "1999" and "Little Red Corvette" were perfect for the growing white audience. The success of
Purple Rain
and its music opened Prince up to an even bigger audience. Between him and the monster success of
Michael Jackson
pop music and videos no longer needed to be segregated forums.
As an actor (and later a director) Prince did a kinda sequel to
Purple Rain
called
Graffiti Bridge
, a justly ignored film. He never again had the film success he had with
Purple Rain
(or to some extent even recording success). Though his acting can be interesting and he does reek of charisma on stage, he usually resorts to just pouting, while his romantic moments can be downright creepy. On the other hand, Morris Day and his band The Time showed so much potential that they should have all had bigger careers. After replacing Vanity 6 lead singer Vanity in the role of Prince's love interest, Apollonia was the one who was suppose to be the pro actor in the group. She had appeared on an episode of
Tales of the Gold Monkey
as "Native Girl." Though she looked great walking around Minnesota in lingerie and leather, her emotional depth was sometimes lacking.
The character flaws and inexperience of most of the cast actually help to give
Purple Rain
a realistic feeling. Is everyone just playing themselves? Most actually were. There's also a classic "let's put on a play" vibe with Prince having rounded up his friends from the music scene and gotten a first time director Albert Magnoli to head the production. The bleakness of the surroundings and the sadness in The Kid's psyche make the film feel like much more than a long form music video. As both an audacious film debut for Prince and as a showcase for his on-stage persona
Purple Rain
is utterly entertaining. But today, maybe
Purple Rain
is most memorable as a window into a world that may or may not have actually existed; it may have all been a fragment of Prince's strange imagination.
____________________________
Purple Rain
won an Oscar for Best Original Song Score.
Posted by:
Sean Sweeney
Aug 9, 2011 10:56am