Movies We Like
Black Sunday
Dir: John Frankenheimer, 1977. Starring: Robert Shaw, Bruce Dern, Marthe Keller, Fritz Weaver. Action.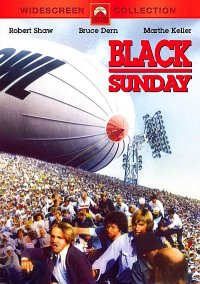 Before novelist Thomas Harris created the character of Hannibal Lecter for his
Red Dragon
book series, he had written one other novel entitled
Black Sunday
. It was a terrorist thriller obviously inspired by the massacre at the 1972 Summer Olympics in Munich. The adaptation for the screen by legendary screenwriter Ernst Lehman (
North by Northwest
,
Sweet Smell of Success
) provides the setting for one of the best action flicks of the 1970s and another cool movie notch in the belt for director John Frankenheimer. Along with
The Deep
released the same year ('77),
Black Sunday
would provide the peak role for actor Robert Shaw as a big star leading man, before tragically dying of a heart attack the following year.
A kinda sexy Palestinian terrorist, Dahlia (Marthe Keller, who played a similarly spooky Euro a year earlier in
Marathon Man
) finds the perfect boyfriend—Vietnam Vet Mike Lander (Bruce Dern, in his full whacked-out mode) who works once a week as a Goodyear blimp pilot for the NFL. To make a point about America's support for Israel, she convinces him to fill the blimp up with explosives and blow up the Super Bowl. (Oh yeah, the President is going to be attending the game, too). Luckily, badass Israeli intelligence agent David Kabakov (Shaw) is on her tail.
Like the adaptation of Frederick Forsyth's
The Day of the Jackal
,
Black Sunday
brilliantly weaves together parallel plots—the terrorist plot and the plot involving the investigator putting the pieces together. In a pre-9/11 era the head American G-Man (Fritz Weaver) is only a sidekick to the more experienced Israeli. When they finally figure out where the scheme is heading the tough-as-nails Shaw shows he's a fish out of water in America. He's not one for civil liberties and when he wonders, "can't we just cancel the Super Bowl"? He is told that it would be like canceling Christmas. Eventually the blimp's attack on a packed stadium, an iconic image from late '70s cinema, is an exercise in superb editing craftsmanship, using every trick in the book from the pre-CGI era.
After years of playing villains, the English-born Shaw finally got to be the hero and he's perfectly cool and tough doing it—sort of a Charles Bronson with nicer diction. Looking over his career ranging from his great blonde bad guy in
From Russia With Love
to Henry VIII in
A Man For All Seasons
(his only Oscar nomination) to his box-office breakouts
Jaws
,
The Taking Of Pelham One Two Three,
and
The Sting
, Shaw was looking like he was about to reach the superstar level. Unfortunately his health started to get in his way. Had he lived into the next decade, who knows what interesting twists his career would have continued to take?
These were also the peak box-office years for Dern who got an Oscar nomination the next year for playing an only-slightly-less-unhinged version of the same character in
Coming Home
. "Hit or miss" sums up director Frankenheimer's long career but unfortunately most of the hits came early. He began his career as Burt Lancaster's go-to guy with
Birdman of Alcatraz
,
Seven Days in May,
and
The Train
. He would continue with a couple more offbeat classics,
Seconds
and
The Manchurian Candidate
. But other then the underrated
French Connection
sequel, for the next thirty years
Black Sunday
is his one standout film. (I know
Ronin
has its fans, and that
Island Of Dr. Moreau
mess with Brando is a guilty pleasure of mine.) At the end of his career, though, Frankenheimer did do well in going back to the small screen (he originally started out as a TV director) on cable with the excellent historical docudramas
George Wallace
and
Path to War
.
Black Sunday
is certainly the best football stadium attack movie ever (at least much better than that Charlton Heston flick
Two-Minute Warning
from a year earlier). For the massive international production of
Black Sunday
somehow Frankenheimer got both Goodyear and the NFL to lend their products to the production. This seems rather unlikely today—a big ugly movie about terrorists is not usually where you want your product placement. The realism goes so far as to include actual Dallas Cowboys and Pittsburgh Steelers as well as the legendary Dallas Cowboy Cheerleaders. Also ahead of its time during an era when terrorists where known for blowing up or hijacking planes was the futuristic vision of Harris who has terrorists using aircrafts as massive flying destructive weapons. Back in '77 when
Black Sunday
blew a lot of minds in the audience, I wonder if a young Osama Bin Laden was watching.
Posted by:
Sean Sweeney
Jul 27, 2011 5:06pm