Movies We Like
Sunset Blvd.
Dir: Billy Wilder, 1950. Starring: William Holden, Gloria Swanson, Erich von Stroheim, Nancy Olson. Film Noir.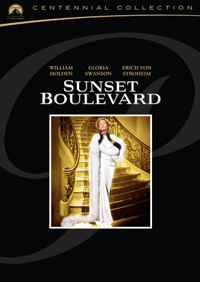 There has never been a screenplay quite like Charles Brackett and director Billy Wilder's screenplay for their 1950 opus
Sunset Blvd
. It's a macabre gothic noir comedy about the ghosts of Hollywood past. It's one of those films, though a first-string classic, where the myths and back-stage stories are just as memorable as the film itself. For a legendary cynic like Wilder it was his ultimate drubbing of the hand that fed him. For star Gloria Swanson it was the ultimate film comeback (ten times more unlikely than, say, Travolta in
Pulp Fiction
). And for her co-star William Holden it began a decade of big performances in important films that cemented him as a major actor. In a time when the studios controlled their products as well as their own image with an iron fist, it's shocking that
Sunset Blvd.
ever got made.
Narrating from a swimming pool of a rundown mansion, a floating corpse tells his story of how he ended up there. Down-and-out screenwriter Joe Gillis (Holden) can't land a new assignment and is on the run from debt collectors. With a flat tire he hides his car in the garage of that rundown mansion. Invited in by the home's butler, Max (Erich von Stroheim), to lend a hand for the funeral of a monkey Joe soon meets the mistress of the house, one-time silent film star, Norma Desmond (Swanson). She lives with only one foot in reality. Her decrepit house is filled with photos and mementos of her former self from her glory days 30 years earlier. Eventually she employs Joe to write her gaudy screenplay that she plans to use as a comeback vehicle. Joe also takes on the role of gigolo, becoming her lover as she keeps him dressed in tuxes and fancy gold watches.
The jobs of both writer and lover make Joe more and more disillusioned. Joe begins to lead a secret life away from Norma, sneaking out at night to write a screenplay with a cute, young, and plucky writer named Betty Schaefer (Nancy Olson). She is the opposite of Joe (and to some extent, Norma). Where Joe is jaded and weary of the world and show business in particular, Betty still believes in the magic of movies and believes that hard work is enough to get ahead.
Norma's fantasy world where she is still a much in-demand star is completely supported and even fabricated by Max, who encourages her to think that her one-time director Cecil B. DeMille (playing himself) is interested in working with her again. To Joe and the audience's shock it turns out that the completely devoted Max was once Norma's director and husband. Eventually bitter disappointment for Norma from both Joe and Hollywood leads to her extreme breakdown which ends with Joe getting shot and reeling into that pool.
Apparently when the script made the rounds among Hollywood insiders some called for it to be burned and thought the film had no right to be made. Many thought it was making fun of and putting down the "dream factory." They thought Hollywood's skeletons belonged in a locked closet and not on the screen. At one point Norma references the then exploding new medium of television by saying, "It's the pictures that got small!" This was another
no-no
for an industry that collectively tried to pretend the competition from TV didn't exist. For those reasons it's amazing that an old school demigod director like DeMille would agree to appear. Other cameos included gossip columnist Hedda Hopper, H.B. Warner (a Frank Capra character actor), and one-time physical comedy genius, Buster Keaton. The Paramount Studio lot even appears as itself.
Wilder originally envisioned and tried to get the great mumbly method actor Montgomery Clift (
A Place in the Sun
) for the role of Joe. More interesting was that Wilder wanted Mae West for Norma. (Greta Garbo and Mary Pickford were also approached.) All turned down the film leading to the eventual casting of Holden and then Swanson who, at that point, was a completely forgotten actress but who was actually only 49-years-old when the film was shot. Her silent career is often overshadowed by the revelations of her affair with Joseph Kennedy (JFK's dad), who had bankrolled a number of her flicks. In real life von Stroheim had directed her in the famously unfinished 1928 flick,
Queen Kelly
(produced by Kennedy). The on-set indulgences and antics helped to sink all three of their Hollywood careers. Shots from
Queen Kelly
are used in
Sunset Blvd.
, another of the many instances where the film imitated life on that screen. Though her gutsy performance in
Sunset Blvd.
got her a lot of attention and critical kudos (and has inspired legions of campy drag performances), Swanson was not able to properly use it to rebuild her career. She followed the film with an unwatchable comedy,
Three For Bedroom C,
and then faded into obscurity but for occasional television appearances. Holden, on the other hand, went on to have a massive career.
The fact that
Sunset Blvd.
got made shows the clout Wilder had established after the critical success of
Double Indemnity
and winning a pair of Oscars for
The Lost Weekend
. Over the next decade he would go on a tear directing a bunch of classics including
Stalag 17
(also with Holden),
Witness for the Prosecution
, and
Some Like It Hot
. He also won another Oscar in 1960 for
The Apartment
. However, perhaps none of his films have stood the test of time like
Sunset Blvd.
has. The twisted romance of Joe and Norma represented the end of the studio era in Hollywood as the old fossils and their sycophants began to rot away behind their weed-covered walls. For the Hungarian-born director it was one of his many of films that chipped away at the American myths that the post-WWII country draped itself in.
__________________________________
Sunset Blvd won 3 Oscars for Best Story and Screenplay, Best Drama or Comedy Score, and Best Black & White Art Direction/Set Direction. It received eight additional Oscar nominations for: Best Picture, Best Actor (William Holden), Best Actress (Gloria Swanson), Best Supporting Actor (Erich von Stroheim), Best Supporting Actress (Nancy Olson), Best Director, Best B/W Cinematography (John Seitz), and Best Film Editing.
Posted by:
Sean Sweeney
Jul 22, 2011 4:05pm