Movies We Like
The Farewell
Dir: Jan Schutte, 2000. Starring: Josef Bierbichler, Monica Bleibtreu, Jeanette Hain. Foreign. Language: German.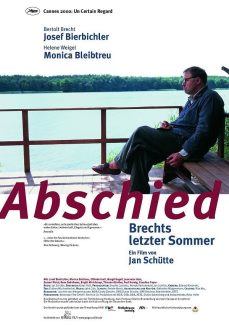 The Farewell
is an account of the final days of the poet, playwright, and theater director, Bertolt Brecht (played by Josef Bierbichler). It recounts a single day of his vacation miles outside of Berlin where he prepared, alongside his reviser, wife, daughter, and mistresses, for the new theater season. The interests of everyone present clash on several matters, most importantly Brecht's health, which was in rapid decline. His wife Helene/Helli (Monica Bleibtreu) stands by as others dote on him. Many, including Kathe (Jeanette Hain), a young actress who seems to be his latest muse and mistress, take priority over his own wife and daughter, Barbara, in terms of attention. Also present on the estate for the vacation is Wolfgang Harich and his wife Isot. Harich is a political reformer who openly shares his wife with Brecht. To complete the picture is Elizabeth, his reviser, and Ruth, an old mistress past middle age who is now an alcoholic and an emotional wreck over the fact that Brecht no longer takes interest in her.
On the morning of their last day of vacation a Stasi officer comes calling and wishes to speak with Brecht's wife in private. He asks if the Harichs are present in their company, and once this has been confirmed, he informs Helli that by sundown they plan to arrest their friends for high treason, no doubt due to Wolfgang's radical activities. The officer asks that everyone on the estate clear out by six o'clock that evening and gives her a number to call and a signal to recite when it's safe for them to take action. He also asks her to not inform the Harichs of the arrest or their conversation, and in doing so, she will keep herself and Brecht out of danger.
The entire film is then left to the tense series of hours before their departure and spends an ample amount of time with each character in order to flesh out their relationship with Brecht, who is more of a catalyst than a protagonist in the film. His weakness, selfishness, and womanizing behavior turns him into a harmless enemy, though everyone around him, especially the women, can't help but see him as a kind of messiah. That's one of the reasons the film as a whole is interesting. It hardly delves into his work, with only brief moments where lines from his plays and poetry are recited and/or weaved into the plot with imagery. Instead it focuses on his flaws, something that his followers then and now might not be aware of, and turns him into a human being instead of a martyr in the world of theater and verse.
While it's easy to see Brecht as a man of poor judgment due to his lifestyle away from the stage, you can't help but see his poetic imagination as a sort of excuse for it. To be surrounded by a faithful wife and strong-willed daughter, a beautiful actress who quietly shared both her body and ambition, a close friend and his wife, who also offered intimacy, must have been quite blissful. There is an expanse where those from the group may skinny dip in a beautiful lake or collect wildflowers, and an abundance of good food and flirtation—it puts his final days into a very tender perspective, and it makes it much easier to see how such a carefree existence influenced his work in ways different from the work of Chaplin and other visual artists that he idolized.
One of the most interesting characters throughout the entire film is Brecht's former mistress, Ruth. She's the only force that keeps you aware of the playwright's impact on others, especially since his wife has passively taken in his mistresses as family over the years and is numb from losing his affection. Brecht has made plans to rehearse their latest production, and his assistants meet them at the country house. Both men are alarmed at Brecht's deterioration, but they try to keep in good spirits. As the time comes to pack Helli begins to slip and tries to give Wolfgang and Isot subtle hints about the arrest. Barbara watches as her mother unravels, and a dark cloud hovers over the dysfunctional family when Brecht's condition reaches an ultimate low.
The film is a clash of political, poetic, and philosophical ideals, but the plot in general is simple. An ill director and poet is surrounded by powerful personalities that produce an emotional strain on a damaged heart. A woman must decide whether or not to let her friends fall in order to save herself and her family. Aside from the uncanny resemblance Bierbichler has to Brecht and the splendid performances, there really isn't much else that stands out. However, that's exactly what made the film enjoyable and refreshing. It reels you in with the tension and the intimate focus on the characters to the extent that you feel as though you are knowingly on the last vacation of your life, which in turn makes it the best. And while there are unpleasant moments, the fact that a sense of fatality lingers makes you treasure the experience as a whole. In short, it unfolded like something Brecht would have produced.
Posted by:
Edythe Smith
Jan 18, 2012 6:02pm