Movies We Like
Battle Royale
Dir: Kinji Fukasaku, 2000. Starring: Tatsuya Fujiwara, Aki Maeda, Taro Yamamoto, Takeshi Kitano. Asian Cinema.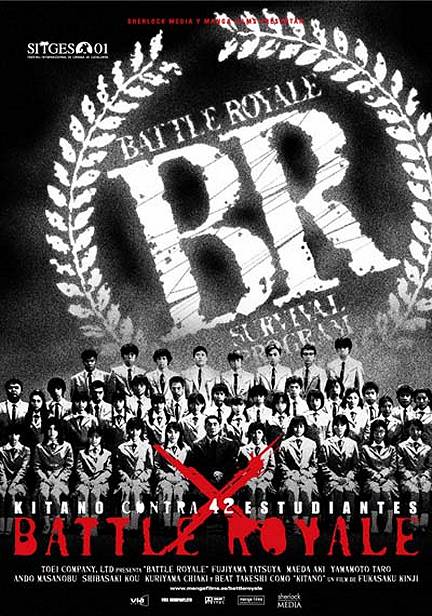 It's always quite special when you can see a film on the big screen for the first time. This was especially true of Kinji Fukasaku's
Battle Royale
, which, until its recent run at a revival theater here in L.A., had never been given a theatrical release in the U.S. The film is in the tradition of movies such as
The Most Dangerous Game
,
Lord of the Flies
, and
Punishment Park
—a series of circumstances unfold that places a group of people in a deserted space to either be hunted or turned into animals in captivity who must redefine "survival of the fittest." Besides the ultra-violence laden with dark satire, the film is unique because those playing the game are a bunch of ninth graders from modern Japan, equipped with bizarre, sometime useless tools, and forced to kill each other or be killed by their own government. Even more bizarre is that the person to initiate them into the game is a former teacher, pushed to the edge by their insolence. The final flare comes in the form of two mysterious transfer students, each a willing participant in the hunt.
The story begins with an announcement about the new BR (Battle Royale) Act, in which students will be chosen at random to be pitted against each other due to their lack of respect for adults. This announcement is followed by a glimpse of reporters shoving to get a glimpse of a young girl, the latest survivor of a BR course. We then cut to a ninth grade class that's a bit more anarchic than usual. After writing on the chalkboard that they've decided to take the day off, Noriko (Aki Maeda), a kindhearted favorite in the class, approaches her befuddled teacher Mr. Kitano (Takeshi Kitano), seeking an explanation for the absence of her peers. Kitano exits without comment only to meet a ballsy student with a knife that slashes him. The teacher leaves the school and everything returns to normal for the most part. At the end of the year the school organizes a class trip in which everyone is loaded onto a bus for a retreat, including drop outs who've come back to school just for the field trip. The knifer is one of those students, and he is close friends with Shuya (Tatsuya Fujiwara), who recently lost his father to suicide. The students are thoroughly enjoying themselves, and Noriko even gathers up the courage to approach Shuya with a bundle of cookies she's baked just for him. Everyone takes a little nap and Shuya wakes to find his peers and teacher gassed while two menacing people wearing masks navigate the bus. Once he's found awake he is knocked unconscious.
The students wake up in a compound wearing strange electronic chokers. Two mysterious teens are perched in opposite corners behind them. A helicopter arrives with troops and Mr. Kitano is among them. He greets his former pupils and wheels in a TV, informing the students that the BR Act has been passed and that they have been chosen at random to be released on a secluded island with tools and will be given a series of days to kill each other. If more than one person is left standing at the end of three days, their collars will explode, as that is the result of them being tampered with. The children are in disbelief until the teacher who was escorting them on the retreat is wheeled in dead. The collar of the boy who cut Kitano is activated when he can't keep his mouth shut, and a girl is killed for whispering when instructed not to. Once their attention is gained, a video comes on where a high-spirited host enthusiastically goes over the rules of the course as if the students were a part of a bizarre game show.
One by one the students are given a number, such as Boy # 9 and Girl # 13, when their name is called. They must answer "here" as if in class, gather a rucksack filled with rations and an unknown weapon, and start running. Students cower and profess their friendship to one another before heading into the night under the watchful eye of soldiers. Shuya tells Noriko that he will wait for her outside, but the bloodshed has already begun. They dodge their peers, vowing to themselves to not participate, and take to the caves in order to tend to Noriko, who's already been wounded. They survey their "weapons": Noriko has a pair of binoculars, and Shuya has the lid of a large soup pan. Astounded by their bad luck, they wait for daybreak in fear.
By morning the game is in full effect. The ever-cheerful Mr. Kitano plays classical music over megaphones and lists off the people who've died overnight. He also names off coordinates like "E-9" as if playing a game of Battleship, which are newly added "danger zones." As Shuya and Noriko try to stick together they are amazed at how swiftly their peers broke. Some, mainly lovers, committed suicide. Others became trigger happy with hand and machine guns and betrayed even their closest friends. As trust dwindles, so does hope and many fall in the first 42 hours. To make things more difficult, the two mysterious transfer students are willing participants, and therefore shoot without hesitation. Kawada (Taro Yamamoto) is the more reasonable of the two and is a survivor of a previous BR course. He takes to Shuya and Noriko like a big brother and decides to help them in the hopes that all three can somehow find a way out.
Others are dead-set on sticking together. A group of boys with computer and chemistry skills take to building bombs and try to hack the computer system that allows Mr. Kitano and the solders to monitor them. A group of girls take the lighthouse like princesses waiting for a knight. Some of the kids treat the game as a camping trip, with the occasional murder thrown in. Others are set on getting back at their enemies.
As you can imagine, the movie is very bloody, but also hilarious. There are a few moments sprinkled in where you are supposed to muster sentiment, especially during flashbacks and dreams, but even those are deliberately redundant to the point of satire. There is a lot speculation from where the director got the story, but I think it fits into the brilliant "return to nature and see if you can survive" kind of allure that is found in films all over the world, even in television. Of course there is a little social and political commentary in the futuristic sense of the decline of civilization, but all in good fun. I honestly can't remember the last time I enjoyed myself so much in a theater. The cast was perfect, and some I recognized from other favorites, such as Fujiwara (
Death Note
) and Chiaki Kuriyama (
Kill Bill
). Takeshi Kitano was brilliant as Mr. Kitano. I honestly don't have a bad thing to say about it, and I'm glad some of us here in Los Angeles could see it on the big screen this past week.
Posted by:
Edythe Smith
Jan 18, 2012 5:27pm