Movies We Like
Farewell Friend
Dir: Jean Herman, 1968. Starring: Charles Bronson, Alain Delon, Olga Georges-Picot, Brigitte Fossey. Action/Adventure.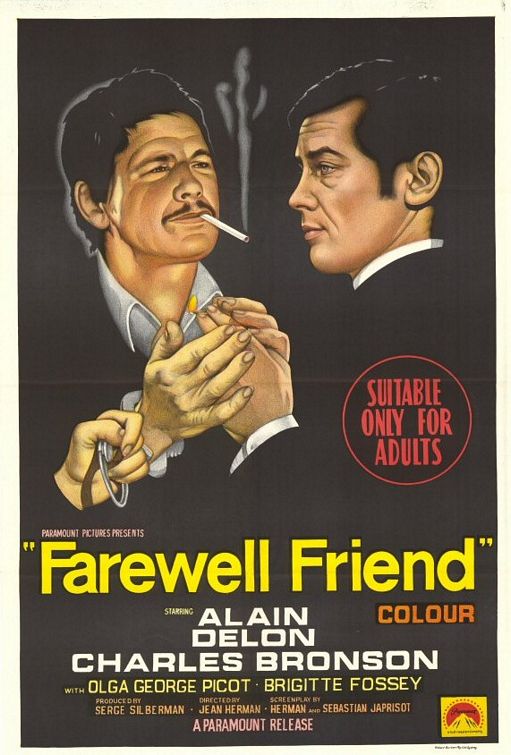 Re-released in the U.S. as
Honor Among Thieves
,
Farewell Friend
is essentially a buddy flick masked in a slow-paced action movie. There's the quintessential rift between two rogues, one extroverted and overly talkative and the other introverted and dependant on one-liners while desperately trying to keep the former at arm's length throughout the majority of the film. The introvert in this film is Dino Barran (Alain Delon), a military doctor who has just been discharged. Oddly enough, the extrovert is his cohort Franz Propp (Charles Bronson), a mercenary who has also been discharged and once worked with Barran in the French Foreign Legion.
Now that they're free to go about their lives, Barran can't wait to shed his uniform and avoid anyone and everyone from the past while Propp wants to be chummy with Barran and reminisce about old times. And as buddy films usually will have it, the two end up sharing a small slice of life regardless of their attitudes towards each other, only to realize towards the end that the other isn't so bad. Think
Planes, Trains & Automobiles
with muscular soldiers who've been discharged and find themselves heading for the same turkey.
As the convention will lead us to believe, both men have some pretty undesirable qualities; each is a womanizer who drinks too much and keeps a firm finger on the trigger. Barran is followed by Isabelle Moreau (Olga Georges-Picot), a beautiful young woman who claims that she was waiting for a man to depart with the other soldiers and thinks that Barran might know him due to the fact that they were both doctors. It turns out that he did know the man and promised to help him carry out a shady task in the event of his death. A safe containing $ 2 Million must be broken into in order for Barran to return a series of bearer bonds that should not have been taken from it in the first place. Isabelle has the bonds and she has a way of getting the handsome doctor a position as a medical examiner within the company that houses the safe. As it turns out, Propp works for the same company and the two have to go back to tolerating one another.
While there, Barran cases the building and is given a series of blueprints and guidelines for the building's security. He's also given an impartial combination to the safe by Isabelle. The break-in is scheduled to go down on Christmas vacation, leaving three days when the safe will not be guarded. When it comes time for the job he runs into Propp, who has been keeping his eye on the safe as well and just so happened to be snooping around in the basement at the same time. He wants to work together with Barran and split the $2 Million down the middle, but Barran insists that he's simply carrying out a deed for a dead friend. While they're distracted by arguing, they end up getting stuck in the basement before Barron has time to stock up on water and food for the three days he'll be working on the safe. Eventually the two start fighting like gladiators and end up getting locked in the room where the safe is held after hours of trying thousands of combinations. When they finally crack it, they're in for a big surprise. What's more is that they are both unaware that they're being played as pawns for something more sinister than theft. And if they want to see daylight again, or clear their names, they'll have to work together and uphold a sense of honor between them.
As with the majority of action films, the plot makes absolutely no sense, and therefore the weight of your suspension of disbelief becomes the responsibility of the cast. What I'm saying is that without Delon and Bronson the movie probably wouldn't have been made. There is almost a homoerotic spark throughout the entire movie (and many action flicks), more specifically when the two are shirtless with each other for at least a third of the film, as well as their ridiculous methods of quarrelling. This sort of odd couple bromance is essentially what kept me hooked and interested in seeing the film to its end, though as the credits rolled I asked myself, what did I just watch? This sense of aloofness was aided by the fact that it was strange to see Delon in an English-speaking roll, and in its own way amusingly absurd. I'd recommend it to anyone who likes to put on a movie and be stuck watching it to the finish, but not necessarily for any kind cathartic revelations.
Posted by:
Edythe Smith
Dec 12, 2011 9:25pm