Movies We Like
Elevator to the Gallows
Dir: Louis Malle, 1958. Starring: Jeanne Moreau, Maurice Ronet, Georges Poujouly. Foreign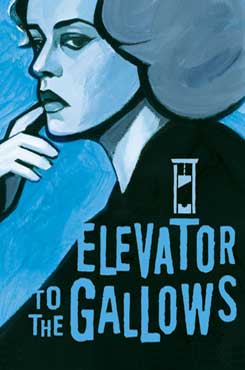 Combining the splendid black and white photography of Henri Decaë, the magnetic force of Jeanne Moreau, and a superb jazz score by Miles Davis, Louis Malle's directorial debut is incomparable in terms of mood and style.
The film was poorly received by critics but has since been deemed a masterpiece, both in terms of direction and pre-new wave modernity. The score by Miles Davis, accompanied with then unknown players and bop drummer Kenny Clarke, would fuel Davis to take on certain conventions within jazz—most notably, the kind heard through his album
Kind of Blue
that followed two years after the film's release. Decaë's work would also become prominent in the works of several new wave directors, specifically Truffaut and Chabrol. Perhaps the most interesting quality to the film is the fact that it is a rarity from Malle. It marks the first and only time that the director tried his hand at noir, or worked so tightly in the confines of a genre. As it goes with films like
Riffifi
and
Le Cercle Rouge
, the criminal aspects of it are somewhat downplayed by a wonderful cast and outstanding photography.
The film takes place within 24 hours, all of which are hell for several characters. Their fate is sealed by the risk of their affairs and we are led to see them as doomed by both the dreary soundtrack and the fact that the majority of the film takes place at night—a time for evils, and I should note, a difficult and expensive time to shoot a film. Two desperate lovers are making their final preparations in an attempt to be together without obstruction. Florence (Jeanne Moreau) is married to a businessman/war profiteer who manufactures guns. She's hopelessly in love with Julien Tavernier (Maurice Ronet), her husband's employee and a former paratrooper for the French Foreign Legion. The two decide to murder her husband by way of making it appear like a suicide. To do this, Florence gives Julien her husband's gun and Julien devises a brilliant method to kill him at the office as everyone is leaving. While his secretary is occupied, he takes to the roof from his window with a climbing hook and rope. Once there he enters the second floor, meets with the man in his office, kills him, and locks all doors from the inside with stupendous ease. When his secretary calls to leave, they exit with security and all is well; everyone assumes the grumpy boss has already caught his train for a vacation.
When he gets outside he goes to his illegally parked convertible in front of a floral shop, where the dimwitted teenager Véronique is closing down and chatting with her hot shot boyfriend Louis. Just as he's ready to go meet his beloved at their rendezvous spot, he looks up at the building and notices his hook dangling from a scaffold. It's the only piece of evidence he's left behind, so he leaves his car running to go back and get it. As soon as he leaves, Louis starts to fondle Julien's car and put him down in response to Véronique's dreamy descriptions of his life and fortune. After entering the building without being seen he rushes to the elevator, but before he reaches his floor, the security guy shuts down the main power and leaves. Now stuck midway between floors, Julien tries frantically to use his militant expertise to open the hatch but it is to no avail. He begins to curse himself for not only coming back, but for leaving his car running. And of course, the spiteful young Louis and his impressionable little lady decide to take it for a joyride.
The young couple passes the rendezvous spot where Julien and Florence were supposed to meet and she sees it. However, the driver is obscured, leaving Florence to believe that Julien has been touched with cowardice. She comes to the conclusion that he not only couldn't pull the trigger, but he's run off with a teenage girl. Feeling shafted, she roams the streets of Paris alone and in the rain to the sounds of Davis, while Julien tries several dangerous methods to get out of the elevator. Meanwhile, the teenage couple ends up taking his car and the gun from the glove compartment, eventually stumbling upon a crime of their own.
Malle developed the screenplay with Roger Nimier, based on a pulp novel by Noël Calef. Oddly enough, the film turns Florence's character into the protagonist as opposed to Julien. As stated before, it was Malle's debut to feature films but the director made several documentaries before it. Following it were many films, both French and American, and many are some of my favorites.
Elevator to the Gallows
is special to me for many reasons. Malle is one of my favorite directors, especially when his films deal with coming-of-age, as seen in films like
Murmur of the Heart
and
Pretty Baby
—both of which also have brilliant jazz scores. I adore
Elevator
because it is so "Malle" in terms of its mood: the pangs and disappoints of love, the leisurely people who pay the ultimate price for their greed, and the music as well as the feel to it. It was the first work in any medium to get me interested in jazz and Parisian architecture. I simply cannot praise it enough.
Posted by:
Edythe Smith
Dec 9, 2011 5:36pm