Movies We Like
Who Wants to Kill Jessie?
Dir: Vaclav Vorlicek, 1966. Starring: Dana Medricka, Jiri Sovak, Olga Schoberova. Foreign.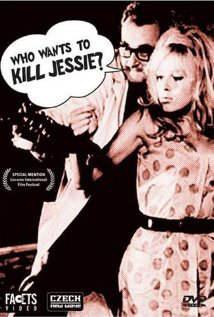 Who Wants to Kill Jessie?
is an underrated gem from a Czech New Wave director that hardly anybody has heard of. It plays on the conventions of comic strips, the mystery of dreams, and communist efforts in Czechoslovakia—with mad scientists who represent brainwashing.
Ruzenka (Dana Medricka) and Jindrich (Jiri Sovak) are a married couple who are both scientists. Each is trying to come up with an invention that will lead them to a Nobel Prize, and both are fairly eccentric. Ruzenka is in the medical field and has found a formula that she's named "KR VI" that can take undesirable qualities about dreams and replace them with pleasant ones. Jindrich is an engineer trying to find a way to increase production in his otherwise incompetent firm.
When Ruzenka has her big presentation with the world's leading scientists, she is certain that she can convince them of her genius. The entire symposium is ridiculous. She speaks of her patient, a female who has terrible nightmares that are so unnerving that they affect her waking life. And as they prepare to administer her with the serum, you realize that she's referring to a cow. A monitor comes on that projects the cow's dream. She's being overcome by gadflies, a dream which stresses her out so much in reality that she yields less milk on the farm. Ruzenka's colleagues inject the cow with the serum and her dream miraculously transforms. The cow swings from a hammock eating a flowerbed while a chamber orchestra serenades her. As the scientists present applaud her discovery, a phenomenon she calls "somnioreparation," few notice or can explain a mass of gadflies that start to come from the cow's ears and swarm in the room. After the experiment comes a debate in which the opposition states that it is not a scientist's moral responsibility to influence people's dreams, nor tamper with the minds of others just because.
Meanwhile her husband has been hit with another failure at his job. Production is slow in the factory because the gloves used by the engineers are not efficient in handling the equipment. While he's sulking, he notices a comic strip that one of his assistants has left on his desk titled "Who Wants to Kill Jessie?" in which a busty blonde vixen/inventor has discovered a formula for magic gloves that defy gravity. On her tail are a cowboy and an evil super-hero who want to get their hands on them—even if it means killing Jessie for the secret behind the gloves' powers. He immediately tells his assistant to get him all the volumes of the comic.
Once home, Jindrich tries to come up with a formula for his own magic gloves while humoring his boastful wife. When he falls asleep he dreams that he's inside the comic and the cowboy and the he-man are about to kill him until Jessie saves him. The dream is like a comic strip, with the comic's characters speaking in word bubbles and sharp black and white contrasts. While he's asleep Ruzenka wakes and discovers he's having a nightmare. It just so happens that she has all her equipment and the serum at home, so she monitors his dream. When she realizes that he's running around in his sleep with a beautiful young woman, she injects him with the serum in the hopes that she can influence it to change. But when Jindrich wakes up, he finds that Jessie (Olga Schoberova) and her nemeses have materialized in real life. Ruzenka finally makes the connection between the gadflies during the symposium and the cow and understands that her invention has made the impossible possible. The funniest part about their materialization is that Jessie and the two men still speak in word bubbles and have the same powers they did in the dream.
Jindrich and Ruzenka lock them all in the apartment and go to work, but of course they escape. A cat and mouse game unfolds as the he-man and the cowboy chase Jessie throughout the streets and sewers trying to get her to reveal the secret of the gloves. And as the chase continues, due to the powers of the group, the entire city goes into chaos as they crash through walls, scale buildings, and outrun the police. Eventually they are cornered and arrested, along with Jindrich, since they're from his dream. He's sentenced to three days in jail, and his now spiteful wife is given the responsibility by the court to make sure the three don't get into more trouble. Since she doesn't want this responsibility and is jealous of Jessie, she plans to get rid of them with outlandish tactics. Will Jindrich be able to save Jessie from both her rivals and his wife?
The film employs many old-school techniques that add to its slapstick appeal; under-cranking the camera so that the chase scenes are speedy, overlapping images, and so on. Though shot in black and white, it still has the same fascinating sci-fi appeal of old classics like
Fantastic Voyage
. It's been compared to
Barbarella
and the comic series
Modesty Blaise
for its voluptuous heroine, but its elements are more exciting because the film was fighting a villain in its own right: the communist censorship which eventually put an end to Czech New Wave. Still, directors such as Milos Forman got their work to slip through the cracks and ultimately fled to escape such artistic setbacks. The cast was superb, and although former Playboy® cover girl Olga Schoberova and the two men don't speak, they pulled off excellent pantomime. This is a must-see for fans of Czech New Wave, sci-fi classics, slapstick, or the first wave of the "superhero craze" in cinema. Highly Recommended.
Posted by:
Edythe Smith
Nov 30, 2011 5:45pm