Movies We Like
Loves of a Blonde
Dir: Milos Forman, 1965. Starring: Hana Brejchova and Vladimir Pucholt. Foreign.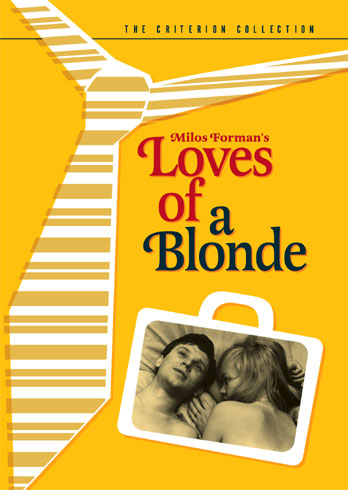 New Wave filmmakers are given credit for the way that contemporary cinema has developed. French and Italian directors in the '60s were, and still are, given the most attention abroad for their work, but there are many films from Iran, East Asia and Czechoslovakia that are lesser-known gems. Milos Forman's filmography consists of many acclaimed films, including
One Flew over the Cuckoo's Nest
and
Amadeus,
but
Loves of a Blonde
marks the beginning of his worldwide popularity and his first Academy Award nomination. When the film premiered at the New York Film Festival, it was considered to be as endearing and classic as Truffaut's
The 400 Blows
, which had its premier a few years earlier. The prevailing formalistic approach to filmmaking is absent here; the film is simple, realistic, and shot in real-time.
The story takes place in Zruc, a desolate Czech town adjusting to Communist rule. The war has rendered the female to male ratio 16 to one, and women of all ages are more or less forced into factory labor making shoes and textiles. The factory manager is sympathetic to the changing times and their needs, and he's concerned about the town's fate. Like a doting father, he worries about the hundreds of girls under his employ and approaches an army officer for help. He asks him to bring a regiment of soldiers into town in order to cure the longings of the young ladies.
Andula (Hana Brejchova) is one of these young ladies. She works at the factory and lives in a girls' dormitory with her best friends. Like everyone else, she wants to find true love. She wears a wedding ring on her finger that she received from a lover who hasn't shown his face in a month. When word reaches the dormitory that The People's Army is coming to town, all the eligible girls make plans to attend the social that's being arranged as a welcome. But instead of greeting an anticipated trainload of handsome young men, they look on with frowning eyes as over-weight, middle-aged men pour from the train like cattle. And although the social is obviously a matchmaking soiree, they attend for the change in scenery.
While there Andula and her two friends catch the eyes of three pitiful men, including one who is married, each hungry for a sexual encounter. The girls feel obliged to humor them, but they all notice the young and handsome jazz pianist who's been brought in from Prague to perform with a full band. The scene is subtle, but easy to find humor in as dopey, drunk, and balding men prey on girls old enough to be their daughters. The girls are less than thrilled to make their acquaintance but are polite enough to dance and accept a bottle of expensive wine as a gift. As the night whittles to a close, it becomes clear that the men won't score and the young girls have no intention of putting out. And as they try to make a crafty exit, Andula locks eyes with the piano player, Milda (Vladimir Pucholt).
Milda is a tall, gangly lad, but he's charming, and Andula is quick to open up to him—even on the gravest of subjects. He eventually asks her to his room and she firmly declines. But Milda is resourceful and finds an excuse to get her up there in order to talk. Well, kids will be kids, and through determination, he gets her to take off her clothes. He assures her that he doesn't have a girlfriend in Prague, and she starts to really trust him. She comes to the unspoken conclusion that she's found what she's been looking for, and although Milda never gives a hint to such sentiment, she assumes the feeling is mutual.
When it comes time for Milda to return to Prague, Andula grows restless from not hearing from him and fears the she might not see him again. So she packs her suitcase and hitchhikes to the capital to surprise him. Upon arriving at his home she meets his parents who are appalled and somewhat disgusted at the unannounced arrival of one of their son's girlfriends. While he's playing a gig the two wait for him to come home and explain the situation while they bully the girl into shame. The interaction not only diminishes her thoughts of romance and spontaneity, but it also exposes the disappointing reality behind first loves and/or one night stands.
The film is not pushy with its messages, but it gets to you in the way that only a realist narrative about romance can. There is no stylish editing or heavy juxtapositions to make your mind come to sudden conclusions. The pace isn't slow or fast, and the film is actually quite short. It gives you just what you need and enough melancholy and subtle eroticism to invoke feelings of familiarity and desire. It's also unbearably sweet and hopeful at times, but the messages are often so faint that you have to pay close attention such as the focus on the striped men's tie that Andula holds onto in the hopes that she'll find a man worthy enough to wear it. The photography is stunning, especially the lighting. It's truly as if you're looking through a keyhole instead of getting a large, drawn-out picture of a war-torn country. The focus is on a small group of women who could care less about politics, communism, or traditions. All they want is someone to lie next to who doesn't have to disappear in the morning. If you've only seen Forman's American features, I highly recommend his Czech films and his early work in general.
Posted by:
Edythe Smith
Nov 16, 2011 4:14am