Movies We Like
Marwencol
Dir: Jeff Malmberg, 2010. Documentary.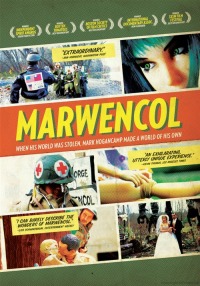 On April, 8, 2000, Mark Hogancamp was brutally attacked in a bar in Kingston, New York. His attackers were five teenagers, and the damage done was horrific. Plastic surgery was needed in order to repair his face and he was in a coma for nine days. When he came to, his memory and motor skills had been erased. He was hospitalized for 40 days until his medical insurance could no longer pay for his treatment and he was released. At 38 and without a means of income, he had to build his life from scratch.
This documentary is separated into ten chapters which chronicle Mark's outstanding efforts to reclaim his life and latch on to the only thing that wasn't taken away by his attackers: his imagination. Chapter 1 is titled "The Attack" and it introduces us to many people in Mark's life. The first is his attorney, but it's an introduction that is far from ordinary. Standing still is Emmanuel Nneji, his attorney, and to the right of the screen is a 1/6 scale toy figure in his likeness. Nneji presents us with the facts of the case and, occasionally, video clips of the bar and photos of Mark's disfigured appearance after the accident.
Next we are introduced to Mark's mother Edda, who also has a doll in her likeness come into the frame, as well as Tod, Mark's former roommate who was his caretaker for two years following the assault. Each goes into detail about Mark's condition: having to learn to rewrite and use his motor skills; the sad fact that his lack of funds made therapy of any kind impossible. But instead of giving up Mark created "Marwencol"—a town of dolls and WW II military figures in which he builds new memories and acts out his life according to fantasy. Chapter 2 is called "Crash Landing," where he recreates a crash scene in which his alter ego, represented by a handsome toy figure, stumbles upon a town with 27 beautiful women. The alter ego starts his own bar, called "Hogencamp's"—later called "Hogencamp's Ruined Stocking" because the bar featured cat fights among the female patrons. The action of the dolls is captured through still photographs and the images are at once tender, violent, morbid, and erotic.
Still, Mark wanted to learn who he was as a person before the attack so he read his old journals and looked at photographs and home videos. He learned that he was married and divorced and had a girlfriend shortly before his coma. He discovers that he was an alcoholic and fairly unreliable at the restaurant he worked at. He realizes that he was angry, perhaps dealing with post-traumatic stress, and he uncovers horrific (but very talented) drawings of men being tortured, beat, or attempting suicide. In a sense, he's happy that he's not his old self. He also learns that he used to cross-dress, and this, along with smoking, are two things he enjoys which the coma and brain-damage did not alter.
Chapter 3 is "The Rules of the Town," in which Mark shows the hobby shop that he gets his supplies and explains that he uses the town to help him grow patient and learn to control the tremor in his hands. In terms of the rules in Marwencol, there's only one large one: when soldiers come to town, whether they be German, French, British, or American, they must be friendly with each other. He also introduces other people in his life that he's made a place for in the town, and Mark's best friend Bert considers his likeness in Marwencol to be a great honor—the highest proof of friendship and admiration that one could receive from Mark. The concept of wishing you had a double comes into play, and when Mark asks his friends what they'd like to do with their lives and ambitions, he makes it a reality in the town. There people who want to own shops own shops, or if they want to date someone special, they can do just that.
Chapter 4 is titled "The Search for Love," and, as the name implies, it's one of the most heartbreaking segments. Here Mark speaks on his weakness for blondes, especially his neighbor Colleen in real life, who is married but used to speak to him often before the coma. He even built a replica of her favorite store that closed down in Marwencol. There's also Anna, his true love, and oddly enough, the only person that is all imagination—someone he wishes he could meet in real life. His alter ego and the doll marry, and he refers to her as his wife.
Chapter 5 is "Discovered," in which a neighbor who does photography noticed him walking along a road pulling a 1/6 scale jeep full of dolls. The photographer, David Naugle, introduced himself and saw Mark's snapshots. He was blown away by the realism from the photos and came to the conclusion that Mark had never viewed himself as a photographer or an artist. Mark showed Naugle thousands of photographs, at which point Naugle decided that he had to share his discovery with the public. But, almost subconsciously, Mark became threatened by this. The beautiful thing about Marwencol is that it is Mark's outlet for his emotions and desires. Shortly after Naugle makes his presence known in his life, chaos comes to the town. In the likeness of Nazi's, a group of men capture and torture his alter ego once they've been notified of the town's existence. A group of women, including his doll love Anna, rescue him and execute the Nazi's. Like those that followed, the sequence is caught on camera, and the gut-churning realism to the torture and the rescue is absolutely breathtaking. The effect is powerful because the Nazi's represent his real attackers and the hostility probably came from the uncertainty of sharing his world with others.
Chapter 6 is called "What If Therapy Became Art?" in which Tod Lippy, editor of
Esopus Magazine
and friend of Naugle, is informed about the town and the man behind it and wants to have an art show in New York City. The magazine is a space for unconventional and unfiltered artists to get exposure, which he thinks is past-due for Mark.
The last four chapters are "The Art Show," "Who I Am," "The Big City Jitters," and "What to Wear?" These chapters are all about Mark's internal struggle to expose a world that he holds so dear and takes very seriously. He realizes that he can no longer distinguish between reality and fantasy and, therefore, exposing Marwencol to the real world might make him lose it as a way to cope. He also comes to terms with the fact that he enjoys cross-dressing, and learns that the men who attacked him did so because he confessed it. In the end, he decides to go through with the show, dismantle Marwencol, and let others in on his second life.
There's always danger and risk in Marwencol, and that's what made him decide to go through with the exhibit. He reassures himself that no-one could ever take the world away from him and knows that he must eventually choose between it and the real world. The documentary is not only fascinating and shattering in most ways, but it's also one of the few examples of seeing an artist without pretensions, formal training, or ideas of fame. It concocts a spell of innocence and freedom so powerful that you grow in faith in something nameless. Not dreams, or even ambition, but a mixture of romance, love, death, and sacrifice that redefines the very meaning of private art. Highly recommended!
Posted by:
Edythe Smith
Nov 2, 2011 6:54pm