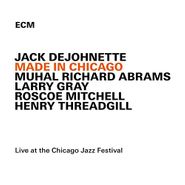 $19.98
Currently Unavailable
Artist:
Jack DeJohnette
Genre:
Jazz
Release Date:
03/10/2015
Label:
ECM Records
Catalog Number:
ECM 2392
Recording:
Studio
Length:
Format:
CD
Made In Chicago (CD)
Jack DeJohnette

Currently Unavailable
$19.98
SHIPS FREE
in U.S.
Amoeba Review
Zac Burgenbauch, Hollywood 03/10/2015
…some of the baddest free jazz available. Clearly DeJohnette, Muhal Richard Abrams, Roscoe Mitchell and Henry Threadgill have lost none of the fire from the early days of the AACM. This album, additionally featuring Larry Gray on bass, demonstrates that clearly.
Overall Rating
0 Submissions