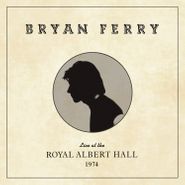 $16.98
Buy
Artist:
Bryan Ferry
Genre:
Rock
Release Date:
02/07/2020
Label:
BMG Rights Management
Catalog Number:
52973
Recording:
Live
Length:
Format:
CD
Live At The Royal Albert Hall 1974 (CD)
Bryan Ferry
Amoeba Review
07/21/2020
Bryan Ferry's Live at the Royal Albert Hall 1974 captures the elegance and excitement of the legendary artist's first ever solo tour. Available for the first time, the recording is infused with effortless cool, suave soul, and all the unforgettable hits from both These Foolish Things and Another Time, Another Place (Ferry's output up until that time). His jazz age influences are readily apparent in the jubilant, glamorous orchestration; the vibrancy and atmosphere of the evening practically float through the stereo speakers, bringing listeners back to one very special performance in London all those years ago.
Overall Rating
0 Submissions