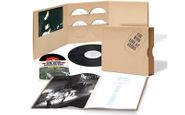 Artist:
The Who
Genre:
Rock
Release Date:
11/15/2010
Label:
Polydor
Recording:
Studio
Sound:
Stereo
Length:
Format:
CD
(1 Used)
Note:
CDs 1 and 2 recorded at Leeds University on February 14 1970 on Pye Mobile.
CDs 3 and 4 recorded at Hull City Hall on February 15 1970 on Pye Mobile.
Also comes with heavyweight vinyl reproduction of the original album; a 60-page hardback book; a replica 7" single and a Pete Townshend poster.
Live At Leeds [Super Deluxe Edition] (4 CD + LP + 7 " Vinyl)
The Who
SHIPS FREE
in U.S.
1 used
from $225
Overall Rating
0 Submissions