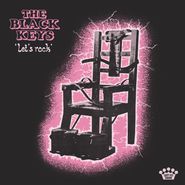 $24.98
Currently Unavailable
Artist:
The Black Keys
Genre:
Rock
Release Date:
06/28/2019
Label:
Nonesuch
Recording:
Studio
Length:
Format:
Vinyl LP
Note:
Indie Exclusive Colored Vinyl
Vinyl Color will be randomly Red, White Or Blue
LIMIT 1 PER CUSTOMER


NOW OPEN!
Visit our new Berkeley
Cannabis Dispensary
located next door!
Let's Rock [Indie Exclusive Colored Vinyl] (LP)
The Black Keys
Currently Unavailable
$24.98
SHIPS FREE
in U.S.
Amoeba Review
08/06/2020
It's back to basics on The Black Keys irresistible Let's Rock. Over the course of their career, the lo-fi garage duo have experimented and morphed their sound, creating arena-ready bangers and churning out intense psyched out blues. After a five-year break, the band has returned to their original drum + guitar formula, creating a mighty rock 'n' roller of a record. One exciting new addition: the soulful Leisa Hans and Ashley Wilcoxson provide backing vocals on the album, bringing a whole 'nother powerful dimension to these dynamic garage numbers. It's rock 'n' roll, pure and simple, and a welcome return for Patrick Carney and Dan Auerbach.
Overall Rating
0 Submissions