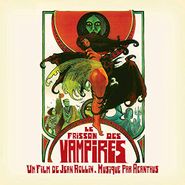 $29.98
Currently Unavailable
Artist:
Acanthus
Genre:
Soundtracks
Release Date:
04/30/2021
Label:
Finders Keepers
Catalog Number:
38
Recording:
Studio
Length:
Format:
Vinyl LP
Le Frisson Des Vampires [OST] (LP)
Acanthus
Currently Unavailable
$29.98
SHIPS FREE
in U.S.
Amoeba Review
LE FRISSON DES VAMPIRES / O.S.T. - The musical score by Acanthus was done in an improvisatory way. Cover artwork featuring insignia of French actress (and erotic pop star) Sandra Julien in her famous press shot pose from Le Frisson Des Vampires taken from one of the rarest poster and publicity adverts of the film. Vinyl LP pressing.
Overall Rating
0 Submissions