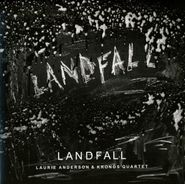 $19.98
Currently Unavailable
Artist:
Laurie Anderson
,
Kronos Quartet
Genre:
Rock
Release Date:
02/16/2018
Label:
Nonesuch
Catalog Number:
564164
Recording:
Studio
Length:
Format:
CD


NOW OPEN!
Visit our new Berkeley
Cannabis Dispensary
located next door!
Landfall (CD)
Laurie Anderson , Kronos Quartet
Currently Unavailable
$19.98
SHIPS FREE
in U.S.
Amoeba Review
09/07/2020
Laurie Anderson's Landfall is a lush multimedia piece on her experience during Hurricane Sandy, and serves as a meditation on loss and the way in which it affects us. Featuring the Kronos Quartet, the project includes voiceover, electronics and acoustic instruments. With matter-of-fact track titles such as "The Electricity Goes Out and We Move to a Hotel," Anderson tells the story in her characteristically fanciful, somber and mesmerizing manner.
Overall Rating
0 Submissions