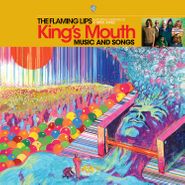 $24.98
Currently Unavailable
Artist:
The Flaming Lips
,
Mick Jones
Genre:
Rock
Release Date:
04/13/2019
Label:
Warner Records
Catalog Number:
584354
Recording:
Studio
Length:
Format:
Vinyl LP
Note:
Limit One Per Customer


NOW OPEN!
Visit our new Berkeley
Cannabis Dispensary
located next door!
King's Mouth: Music & Songs [Record Store Day] (LP)
The Flaming Lips , Mick Jones
Currently Unavailable
$24.98
SHIPS FREE
in U.S.
Amoeba Review
08/04/2020
Originally conceived of as the soundtrack to frontman Wayne Coyne's art exhibit of the same name, King's Mouth: Music and Songs features strange, clever lyrics paired with playful, richly-textured melodies. In short, it's the new Flaming Lips album you've been dreaming of — lush, moving, and lovably off-kilter.
Overall Rating
0 Submissions