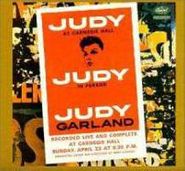 Currently Unavailable
Artist:
Judy Garland
Genre:
Release Date:
03/2000
Label:
Dcc Compact Classics
Catalog Number:
GZS (2)-1135/1 - 1135/2
Recording:
Studio
Length:
Format:
CD
Note:
In March 2000, the complete concert (including all of Judy's stories and chatter to the audience) was released by DCC Compact Classics. This 24 karat 2-CD set presents the concert as recorded through the microphone that night, with no auditorium reverb added. All the songs were presented in the order of the concert. Capitol released their own complete, restored and remastered version on a special 2-CD release on February 27, 2001, to commemorate the 40th anniversary of the concert. The difference between this and the DCC Compact version is that the Capitol version has the added "hall" sound, whereas the DCC version presents the sound as recorded in Judy's microphone. This results in a sound that places Judy's voice front and center, with the rest of the hall in the background. It's a matter of taste as to which one a fan prefers.
Judy At Carnegie Hall [Gold Disc] (CD)
Judy Garland
Currently Unavailable
SHIPS FREE
in U.S.
Overall Rating
0 Submissions