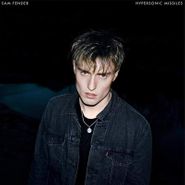 $14.98
Currently Unavailable
Artist:
Sam Fender
Genre:
Rock
Release Date:
09/13/2019
Label:
Interscope Records
Catalog Number:
B0030411-02
Recording:
Studio
Length:
Format:
CD
Hypersonic Missiles (CD)
Sam Fender

Currently Unavailable
$14.98
SHIPS FREE
in U.S.
Amoeba Review
07/28/2020
After a couple self-released singles got him signed to a major label deal, singer/songwriter Sam Fender is ready to conquer the world with his debut full-length, Hypersonic Missiles. Sounding at times like an alternate universe version of The Killers (if the band had sprung up from northern England rather than Las Vegas, releasing Sam's Town as their debut rather than Hot Fuss), Fender's songs are exactly what one seeks in pop music: catchy, candy-coated morsels with a satisfyingly emotional core. These missiles hit their intended targets.
Overall Rating
0 Submissions