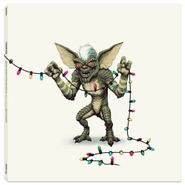 $55.98
Currently Unavailable
Artist:
Jerry Goldsmith
Genre:
Soundtracks
Release Date:
12/16/2016
Label:
Mondo
Catalog Number:
83
Recording:
Studio
Length:
Format:
Vinyl LP
Note:
2LP
Heavyweight vinyl housed in a UV sensitive gatefold jacket - when exposed to daylight, it reveals additional artwork. Disc sleeves are water sensitive: when exposed to a damp cloth, they reveal additional artwork (NOTE: Water and Hot temperatures are as bad for Records as they are for Gremlins)


NOW OPEN!
Visit our new Berkeley
Cannabis Dispensary
located next door!
Gremlins [OST] (LP)
Jerry Goldsmith
Currently Unavailable
$55.98
SHIPS FREE
in U.S.
Overall Rating
0 Submissions