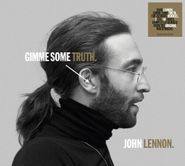 View all Photos
$24.98
Currently Unavailable
Artist:
John Lennon
Genre:
Rock
Release Date:
10/09/2020
Label:
Capitol
Catalog Number:
3267602
Recording:
Studio
Length:
Format:
CD
Note:
2CD


NOW OPEN!
Visit our new Berkeley
Cannabis Dispensary
located next door!
Gimme Some Truth. [2CD] (CD)
John Lennon
Amoeba Review
Gimme Some Truth is the definitive new best of John Lennon collection. This 2CD edition features 36 tracks completely remixed from the original master tapes, giving these classic songs a new life for generations to come and sounding better than ever before. 2CDs housed in a slipcase with a 20-page booklet and fold-out double-sided poster.
Overall Rating
0 Submissions