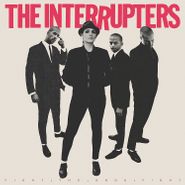 $24.98
Currently Unavailable
Artist:
The Interrupters
Genre:
Reggae
Release Date:
06/29/2018
Label:
Epitaph Records
Catalog Number:
80533
Recording:
Studio
Length:
Format:
Vinyl LP


NOW OPEN!
Visit our new Berkeley
Cannabis Dispensary
located next door!
Fight The Good Fight (LP)
The Interrupters
Currently Unavailable
$24.98
SHIPS FREE
in U.S.
Amoeba Review
A joyful throwback to the ska-punk of the late '90s and early 2000s, complete with a guest turn by Rancid on "Got Each Other." With lyrics that deal with gravel-voiced singer Aimee Interrupter's rough childhood, the band's songs are triumphant and upbeat, with tight musicianship and radio-friendly choruses.
Overall Rating
0 Submissions