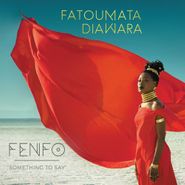 $19.98
Buy
Artist:
Fatoumata Diawara
Genre:
World
Release Date:
05/18/2018
Label:
Shanachie
Catalog Number:
66046
Recording:
Studio
Length:
Format:
CD
Fenfo (Something To Say) (CD)
Fatoumata Diawara

Buy
$19.98
SHIPS FREE
in U.S.
Amoeba Review
Viola, Hollywood 05/18/2018
There's a new African diva, and this is her: Fatoumata Diawara, actor and dancer from Mali, has matured into an incredible singer and songwriter. Afropop in the good sense! Watch her videos!
Overall Rating
0 Submissions