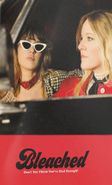 $10.98
Currently Unavailable
Artist:
Bleached
Genre:
Rock
Release Date:
07/12/2019
Label:
Dead Oceans
Catalog Number:
DOC185
Recording:
Studio
Length:
Format:
Cassette
Don't You Think You've Had Enough? (Cassette)
Bleached
Currently Unavailable
$10.98
Amoeba Review
08/04/2020
On Bleached's third album, Don't You Think You've Had Enough?, the band delivers a heavenly slice of pure punk pop. The band goes stripped down and vulnerable on lead single "Shitty Ballet." "Hard to Kill" takes the opposite approach; it's middle-finger-in-the-air raw and with plenty of rock 'n' roll sneer. "Kiss You Goodbye" is a funked-up, polished anthem for moving on from bad relationships and moving on up. Get blissed out and loud with this tightly-constructed album from one of the most dynamic bands in modern punk.
Overall Rating
0 Submissions