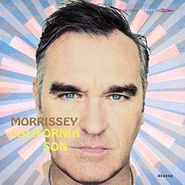 $29.98
Currently Unavailable
Artist:
Morrissey
Genre:
Rock
Release Date:
05/24/2019
Label:
BMG Rights Management
Catalog Number:
86087
Recording:
Studio
Length:
Format:
Vinyl LP
Note:
Indie Exclusive Sky Blue Colored Vinyl
Limit One Per Customer
California Son [Sky Blue Vinyl] (LP)
Morrissey

Currently Unavailable
$29.98
SHIPS FREE
in U.S.
Amoeba Review
08/10/2020
Morrissey's latest album finds the legendary post-punk crooner covering twelve songs mined from the pop archives of the '60s and '70s. With arrangements and production full and punchy, California Son showcases Moz's rich, silky voice as he re-imagines tracks like Roy Orbison's "It's Over," Jobriath's "Morning Starship," and 5th Dimension's "Wedding Bell Blues," featuring a guest appearance by Green Day's Billie Joe Armstrong. Gary Puckett's "Lady Willpower" soars in Morrissey's hands, with just the right amount of schmaltzy, '60s camp.
Overall Rating
0 Submissions