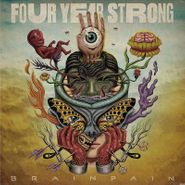 $26.98
Currently Unavailable
Artist:
Four Year Strong
Genre:
Rock
Release Date:
02/28/2020
Label:
Pure Noise
Catalog Number:
2681
Recording:
Studio
Length:
Format:
Vinyl LP
Note:
Blue/Yellow Split Colored Vinyl
Brain Pain [Colored Vinyl] (LP)
Four Year Strong

Currently Unavailable
$26.98
SHIPS FREE
in U.S.
Amoeba Review
07/21/2020
On Four Year Strong's fifth studio album, Brain Pain, the band continues to pack a punch, moving deftly from pop-punk to screamo/metalcore and back again. Angst is always present, but so is a playful sense of melody and big, pop production. "Talking Myself in Circles" may be unabashedly catchy and radio-friendly, but the title track juggles crushing-force guitars, screams and melodic, tight harmonies. These are well-arranged songs that hint at disparate rock influences.
Overall Rating
0 Submissions