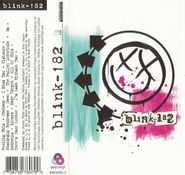 $13.98
Currently Unavailable
Artist:
blink-182
Genre:
Rock
Release Date:
08/25/2015
Label:
Catalog Number:
B0023748-04 SRC-079C
Recording:
Studio
Length:
Format:
Cassette
Note:
Recorded at: The Rubin's House, Conway, Rolling Thunder, and Signature Sound.
Mixed at: Conway, Chalice, South Beach and Soundtrack.
Pressing Information:
500 - Black Shell with a White Sticker Full Color Print [THIS]
1000 - Pink Shell with White Ink
1000 - White Shell with Teal Green Ink
Typos:
Track 15 is credited with "Mixed by Jerry Finn" and Track 16 is credited with "Mixed by Tom -Lord-Alge." However, there are only 14 tracks on this release.
Blink 182 (Cassette)
blink-182
Currently Unavailable
$13.98
Overall Rating
0 Submissions