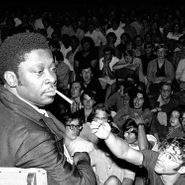 $19.98
Buy
Artist:
Various Artists
Genre:
Blues
Release Date:
08/02/2019
Label:
Third Man Records
Catalog Number:
239
Recording:
Live
Length:
Format:
CD
Note:
2CD


NOW OPEN!
Visit our new Berkeley
Cannabis Dispensary
located next door!
Ann Arbor Blues Festival 1969 (CD)
Various Artists
Buy
$19.98
SHIPS FREE
in U.S.
Amoeba Review
08/04/2020
A 50th anniversary celebration of the Ann Arbor Blues Festival of 1969 – the first American all-blues festival - this new live recording is a double album of incredible performances, originally captured by student promoters of the event on a Norelco tape recorder. The album features "living history" performances by artists like Muddy Waters, Howlin' Wolf, Big Mama Thornton, B.B. King, Lightnin' Hopkins, Mississippi Fred McDowell and many more artists, who shared a sense of community at the festival. The single, Muddy Waters' "Long Distance Call," with its plaintive harmonica and spontaneous applause and whistles, embodies the perfect blues-soaked summer atmosphere. For the true blues fan, it doesn't get much more authentic than this.
Overall Rating
0 Submissions