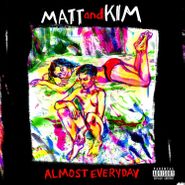 $24.98
Buy
Artist:
Matt & Kim
Genre:
Rock
Release Date:
05/04/2018
Label:
Fader
Catalog Number:
918101
Recording:
Studio
Sound:
Stereo
Length:
Format:
Vinyl LP
Note:
Red Colored Vinyl
LIMIT 1 PER CUSTOMER


NOW OPEN!
Visit our new Berkeley
Cannabis Dispensary
located next door!
Almost Everyday [Red Vinyl] (LP)
[Explicit]
Matt & Kim
Buy
$24.98
SHIPS FREE
in U.S.
Amoeba Review
The Brooklyn indie-electro duo are back with their trademark, exuberant anthems aimed at getting you out of your funk and onto the dance floor. "Happy If You're Happy" is a short, sweet little love ballad, while "Forever" is a rallying love song to the ones that keep us moving in times of adversity.
Overall Rating
0 Submissions