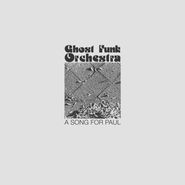 $16.98
Buy
Artist:
Ghost Funk Orchestra
Genre:
Soul
Release Date:
08/23/2019
Label:
Colemine/Fat Beats
Catalog Number:
12002
Recording:
Studio
Length:
Format:
CD
A Song For Paul (CD)
Ghost Funk Orchestra

Buy
$16.98
SHIPS FREE
in U.S.
Amoeba Review
08/04/2020
Drifting in from another spookier, more soulful universe comes Ghost Funk Orchestra's A Song for Paul. Led by one-man producer, arranger, and musician Seth Applebaum, the band fuses retro soul, funk, and psych together, with gritty production and fuzzed out guitars. The band says it best themselves: it's an album that sounds "like a lost score to a Quentin Tarantino film." Get hip, get with it, and get this thing on your turntable because once you put the needle down, you won't want to take it off.
Overall Rating
0 Submissions