Live at Amoeba: Upcoming Shows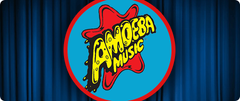 We are constantly hosting incredible free live performances, DJ sets, and signing events at each of our three stores. All ages are always welcome.
Our Next Show:
Hollywood
11/30 @ 6:00pm
Berkeley
2455 Telegraph Ave. Berkeley, CA 94704
There are no shows currently on the calendar.
Hollywood
6400 Sunset Blvd. Los Angeles, CA 90028
Thursday November 30th 6pm

Amoeba Hollywood is excited to welcome Mystery Science Theater 3000 cast members JONAH RAY, FELICIA DAY and HAMPTON YOUNT for an in-store signing of the new soundtrack.
To attend: purchase MST3K: The Return - Music From The Netflix Original Series (Shout Factory!) CD at Amoeba, Hollywood on 11/30 to get your copy signed and meet the cast!

As part of Resident Advisor's Community Connections, a series celebrating electronic music communities across the globe, we welcome artists Tropic Of Cancer and Pete Swanson for special guest DJ sets Friday, December 1st at 8pm.
Saturday December 2nd 4pm

Josh Fadem will auction off a crazy array of concert tickets, collectibles, gift certificates from our amazing neighbors and partners (Trader Joe's, Urban Outfitters and Arclight to name a few), and other things you never knew you had to have at Amoeba Hollywood Saturday, December 2nd at 4pm. All proceeds will benefit the Los Angeles Regional Food Bank.
Josh Fadem is a Los Angeles based comedian and actor with numerous credits, including Twin Peaks, Better Call Saul, and 30 Rock. Follow him @joshfadem.
As always, Amoeba matches all winning bids up to $1,000, which means we'll double the money going to the Los Angeles Regional Food Bank and their mission to mobilize resources to fight hunger in our community.
Stay tuned for auction items!

Australian brother and sister duo return to Amoeba for a live performance and album signing. Purchase their new album, Snow at Amoeba to meet them/get copy signed after the in-store set (signing limited to new album purchasers, space is limited).
They play live at The Observatory in Santa Ana on 12/7 and a sold out show at The Fonda on 12/6.
"It's a typically rich return, laced with evocative songwriting." — Clash
Thursday January 18th 6pm

After releasing the politically charged solo album Eternally Even in 2016, My Morning Jacket front man Jim James returns with Tribute To 2, a collection of cover songs that reverberate with fresh meaning.
Purchase your copy at Amoeba Hollywood beginning December 8th to get your copy signed after his in-store performance.
San Francisco
1855 Haight St. San Francisco, CA 94117
There are no shows currently on the calendar.