Live at Amoeba: Upcoming Shows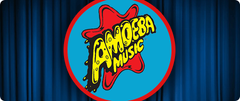 We are constantly hosting incredible free live performances, DJ sets, and signing events at each of our three stores. All ages are always welcome.
Our Next Show:
Hollywood
12/14 @ 6:00pm
Berkeley
2455 Telegraph Ave. Berkeley, CA 94704

Meet G-Eazy and get his new album signed at Amoeba Berkeley on Friday, December 15th at 3pm! Purchase The Beautiful & Damned in-store only at Amoeba Berkeley on 12/15 (release day) to attend this event. Space is limited!
Hollywood
6400 Sunset Blvd. Los Angeles, CA 90028

Join Amoeba as we celebrate the documentary Kedi (Oscilloscope Laboratories), this year's best cinematic ode to cats and those whose lives they enrich. Director Ceyda Torun will be at Amoeba to sign copies of the DVD/Blu-ray. Proceeds will benefit Society for the Prevention of Cruelty to Animals Los Angeles (spcaLA).
Purchase your Kedi-Pack on December 14th to attend signing and receive:
- Blu-ray or DVD copy of Kedi
- Admission to meet and get your copy signed by director Ceyda Torun
- Kedi poster (full-size lobby poster!)
- Kedi limited-edition catnip
- Weruva 3-pack of their natural cat food/treat pouches
(space is limited for this special holiday signing/benefit event)
Thursday January 18th 6pm

After releasing the politically charged solo album Eternally Even in 2016, My Morning Jacket front man Jim James returns with Tribute To 2, a collection of cover songs that reverberate with fresh meaning.
Purchase your copy at Amoeba Hollywood beginning December 8th to get your copy signed after his in-store performance.
San Francisco
1855 Haight St. San Francisco, CA 94117
There are no shows currently on the calendar.