Live at Amoeba: Upcoming Shows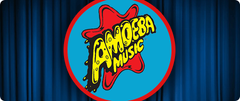 We are constantly hosting free live performances, DJ sets, and signing events at each of our three stores. All ages are welcome.
Our Next Show:
Hollywood
10/22 @ 5:00pm
Berkeley
2455 Telegraph Ave. Berkeley, CA 94704
There are no shows currently on the calendar.
Hollywood
6400 Sunset Blvd. Los Angeles, CA 90028

Surf Curse plays live at Amoeba Hollywood to celebrate their new album, Heaven Surrounds You!
Purchase your copy of the CD or LP (green vinyl!) in-store only at Amoeba Hollywood on October 22nd to meet the band and get the album signed after their performance.
Show is free/all-ages. Signing space is limited.
See them next at The Fonda Theatre 10/18 (SOLD OUT!) and Tropicalia Festival on 11/10.

Jason Douglas has a residency on the Omakase Mixshow, a new record with Homero G on the way, and is back with his third set for Rotations at Amoeba.

Irish singer-songwriter Dermot Kennedy joins us at Amoeba Hollywood on Tuesday, October 29th at 5pm for a live set and signing of his long-awaited debut album Without Fear (out October 4th on Interscope).
To attend signing:
- Purchase your copy of Without Fear at Amoeba Hollywood starting 10/4 to receive a ticket to attend signing after performance
- One per person. Signing space is limited.
- No photos during signing due to limited time.
- No online or phone orders for signing event admission.
Thursday October 31st 4pm

Celebrate Halloween at Amoeba Hollywood Thursday, October 31st! Join us for spooky fun including our annual "Howl-o-ween" Dog Costume Contest, DJ Skeletuna spinning Halloween music, candy for the kids, and treats for your four legged friends from our friends at Weruva.
3PM: DJ SkeleTuna will spin a musical web of fright to set the spooky mood...
4PM: DOG COSTUME CONTEST on the Amoeba Stage hosted by Billy "KILLY" Calhoun!
Show off your dog's Halloween finest on our stage for chances to win gift certificates, great prizes, and fun treats for lucky winners and attendees from our friends at Weruva!
And remember ghouls, Amoeba Hollywood closes early at 7pm on Halloween (the trade counter closes at 6pm).
Wednesday November 6th 6pm

Chris Conley of Saves the Day – performs solo acoustic tracks from Through Being Cool followed by a signing of the 20th anniversary reissue double LP.
Purchase your copy of Through Being Cool, limited-edition double LP (special pink vinyl version!) at Amoeba Hollywood on November 6th to meet Chris and get your copy signed after the performance.
Show is free/all-ages. Signing space limited. Limit 1 LP per person.
This November marks twenty years since Saves The Day released their pivotal full-length Through Being Cool, just two short years into their storied career. With Chris Conley still at the helm, the band continues to evolve two decades into their creative journey while still embracing their past – most recently with their aptly titled ninth album, 9.
Thursday November 7th 6pm

The always-fabulous Lynda Kay returns to Amoeba Hollywood to celebrate her new album, Black & Gold with a live performance and CD signing.
Purchase your copy of Black & Gold at Amoeba on November 7th to attend the signing after the show.
"compelling talent… goth-country siren, with her towering beehive and David Lynchian theatrics" - Variety
San Francisco
1855 Haight St. San Francisco, CA 94117
Wednesday October 30th 6pm

Irish singer-songwriter Dermot Kennedy joins us at Amoeba SF on Wednesday, October 30th at 6pm for a live set and signing of his long-awaited debut album Without Fear (out now on Interscope). Wristbands for the signing line are now sold-out. You can still attend the in-store performance, but only those with wristbands may get into the signing line. No photos are allowed during the signing due to time restrictions.
Thursday October 31st 2pm

Stop by Amoeba SF on All Hallows' Eve for some spooky fun times! We'll be handing out candy for the kids in costume all day. From 2-4pm, DJ Swordfight storms this castle to play some kookie hits for all! Then the Amoeba staff competes for the title of Best Costume at 4pm. Get your shopping in early because Amoeba SF closes early that day at 6pm.