Hollywood Bowl 100th Celebration
Amoeba Hollywood - May 22nd @ 2:00pm
Join us Sunday, May 22nd from 2 to 4pm as Amoeba Hollywood celebrates the centennial of the Hollywood Bowl with a special in-store event featuring KCRW's Travis Holcombe who will DJ a set featuring 2022 season highlights. Come say "hi" and score some Hollywood Bowl swag - and most importantly, snag a promo code to purchase tickets without a processing fee (while supplies last, in-person only).
DJ Travis Holcombe is a fan of music who's turned his passion into a career. Find him on the radio airwaves every weeknight 8-10pm hosting FREAKS ONLY on 89.9FM KCRW." Travis will be DJing on the Amoeba stage and you can stop by the Hollywood Bowl and KCRW table to get your ticket code and other fun swag.
The 2022 Hollywood Bowl season celebrates a century of stellar performances at one of the world's most iconic venues. The centennial season offers a spectacular mix of beloved traditions and history-making innovations, tributes to legendary figures of the Bowl's past and great stars of the present, the best in jazz and popular music and 34 evenings under the stars with the Los Angeles Philharmonic, 10 of them under the baton of Music and Artistic Director Gustavo Dudamel.
Gustavo Dudamel said, "There is truly no place like the Hollywood Bowl. Nothing can compare to the feeling of performing there on a summer night, as our sound seems to pour out from the hills to the thousands of music lovers spread before us, gathered from everywhere in Los Angeles and around the world. We dedicate our programs in this 100th season to all the people who have made the Hollywood Bowl a part of their lives, year after year, and to the new generation, on our stage and in our audience, that is going to carry the magic of this place far into the future."
There is SO much happening this seasopn – here's some of the highlights to get excited about:
• 10 Evenings Under the Stars with Gustavo Dudamel and the LA Phil
• FREE 101 Festival, Two Nights of Music at the LA Phil's Iconic Outdoor Venues, the Hollywood Bowl and The Ford
• July 4th Fireworks with Steve Martin & Martin Short, the Steep Canyon Rangers and Jeff Babko
• Stellar Guest Artists Including Duran Duran, Ricky Martin, Kenny Loggins with Jim Messina, A.R. Rahman, John Fogerty, a-ha, Sheryl Crow, UB40, Diana Ross, Boyz II Men, TLC, Grace Jones, CHVRCHES, Pentatonix and many more
• Classical superstars including Lang Lang, Joshua Bell, Seong-Jin Cho and dancers from Paris Opera Ballet among others
• Tributes to Bowl Legends with special guests Billie Eilish and Debbie Harry, plus return of Bowl icons including John Williams, Itzhak Perlman and more
• Film at the Bowl, with Back to the Future, Black Movie Soundtrack IV, Amadeus, Sing-A-Long Sound of Music, Harry Potter and the Deathly Hallows Part 1, Maestro of the Movies: Celebrating John Williams at 90
• Broadway musical Kinky Boots, by Cyndi Lauper and Harvey Fierstein, directed and choreographed by Jerry Mitchell
• Opera at the Bowl, with Christine Goerke and Matthias Goerne Joining Dudamel and Yuval Sharon for Act Three of Wagner's Die Walküre
Photos Fireworks: Hollywood Bowl shell with fireworks. Photo by Adam Latham. Colored postcard: Two men and a woman stand in front of seats with the Hollywood Bowl shell and reflecting pool fountains running behind them, circa 1953.
Some snapshots of Hollywood Bowl moments in history: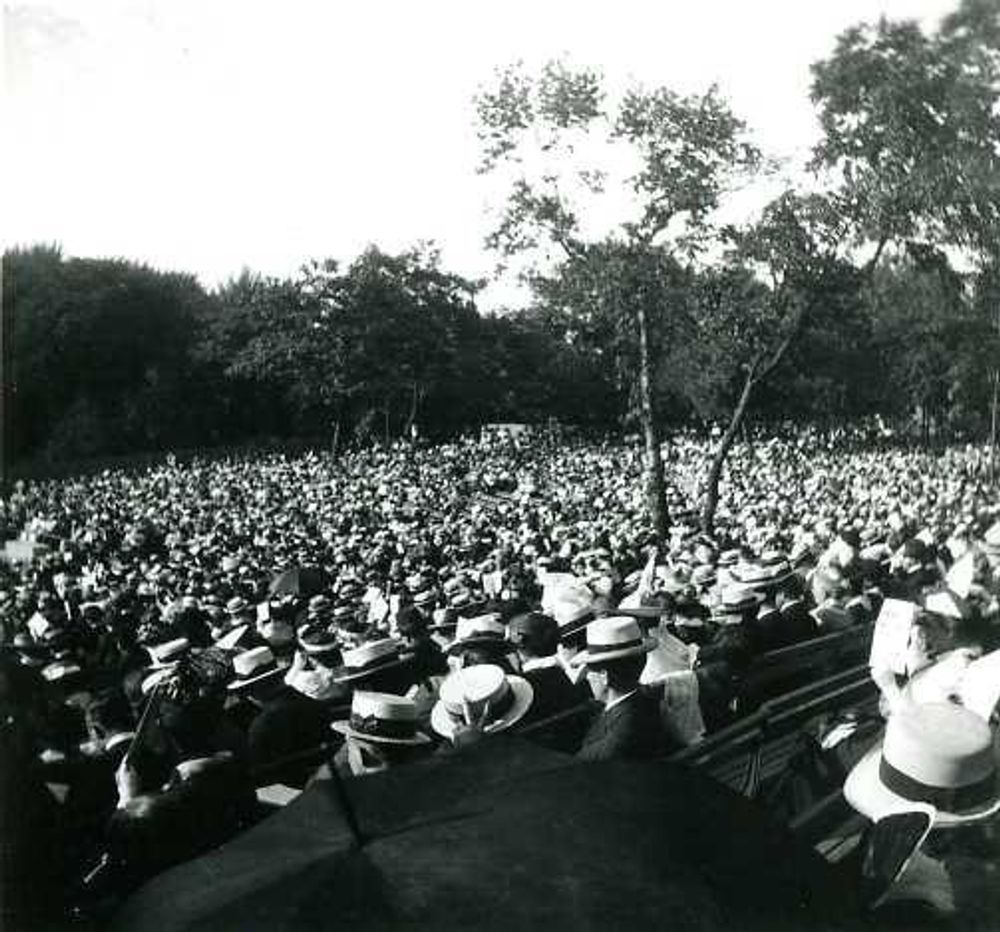 1922 Audience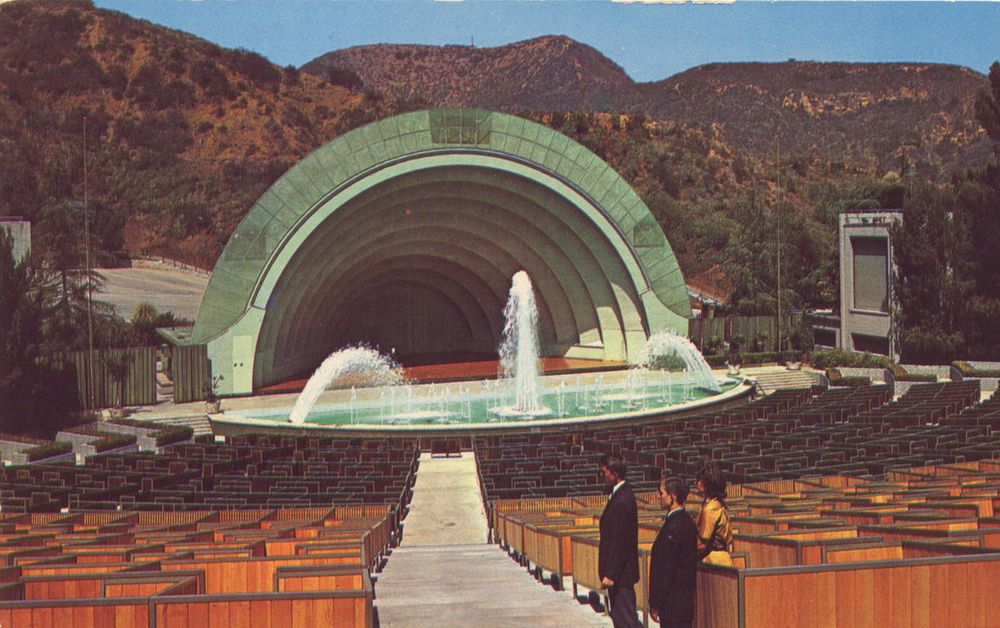 Hand-tinted postcard showing the Hollywood Bowl shell and reflecting pool fountains running behind them, circa 1953.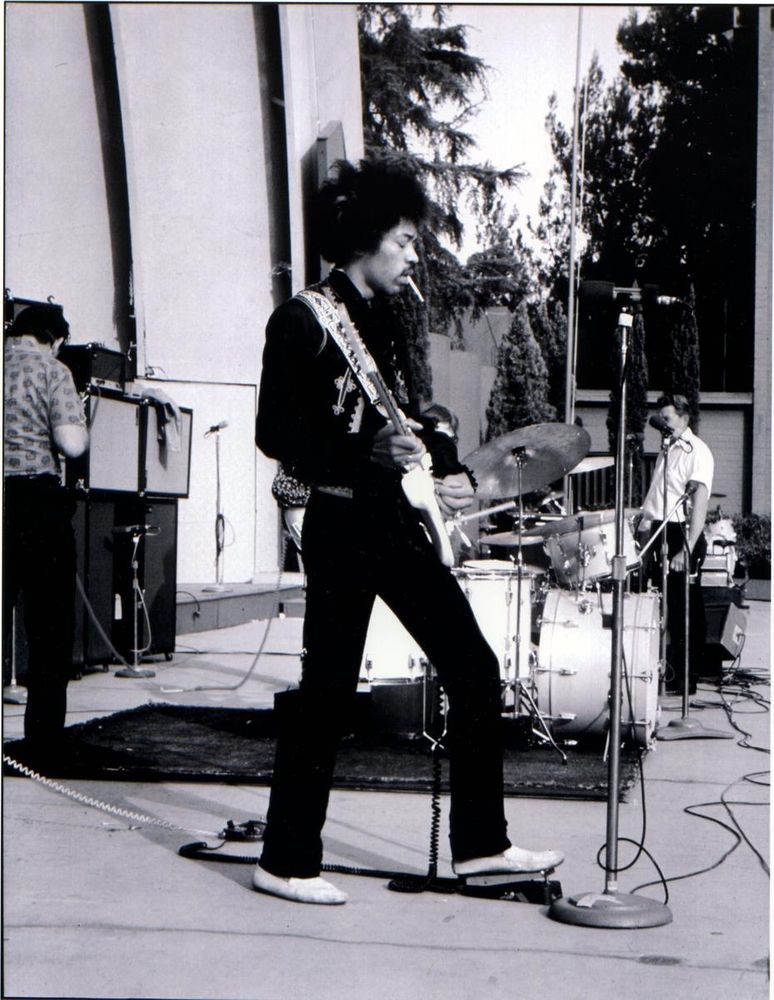 Jimi Hendrix in a rehearsal at the Hollywood Bowl, September 14, 1968.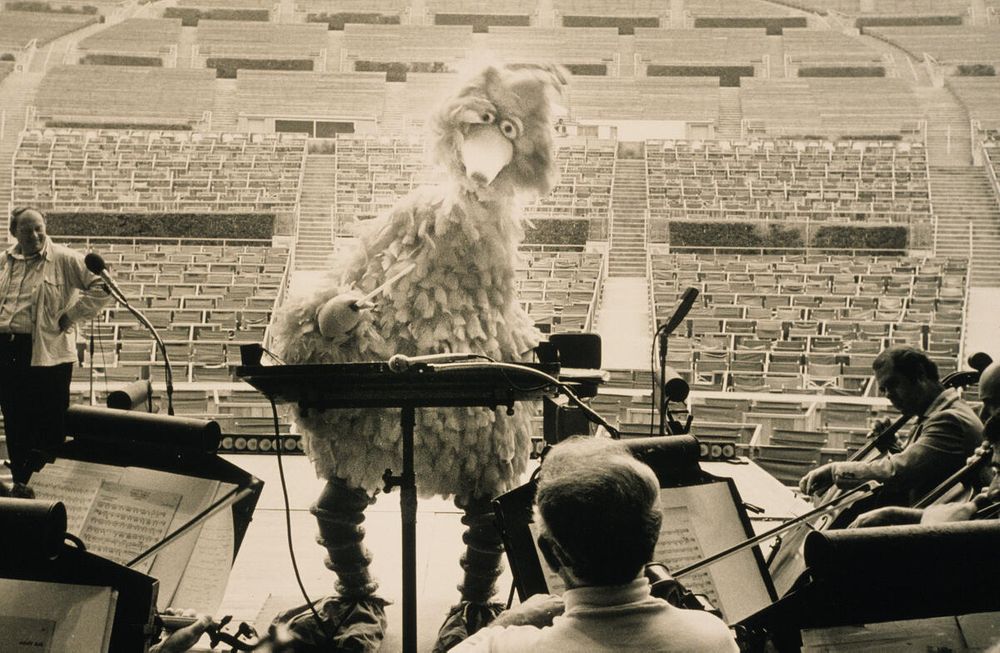 Big Bird of Sesame Street plays conductor during a rehearsal at the Hollywood Bowl, 1977. Photograph by David Weiss.