Thee Oh Sees – "Drop" video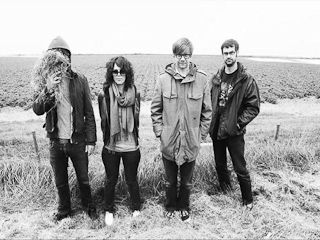 So I guess Thee Oh Sees are still breaking up? I feel like I'll believe it when I see it. But in the meantime, their new album, Drop, is due April 19 , aka Record Store Day (you can preorder it now on LP or CD). The visuals for their new video for the power-poppin' title track reminds me of Spirograph and origami, except a lot cooler. Here it is, via Spin.
Warpaint – "Disco//Very" and "Keep it Healthy" video
I picture Warpaint a lot shier than they appear in the video for two songs from its recent, self-titled second album. For the darkly danceable "Disco//Very," we see them cavorting in the streets with a bunch of skaters, coming off a bit like the girl gang from The Craft. Lots of fun hand-dancing. Then, night falls for the chiller "Keep It Healthy," which sees the ladies' nocturnal tune soundtrack nighttime skate tricks. Very cool, fun stuff that shows the band doesn't take itself too seriously. Also Warpaint is one of the best albums of the year so far and you should get it now.