Amoeba Music is proud to present Norwegian pop band The Green Children in concert at The Roxy July 20. Tickets are available now at Amoeba Hollywood for $12 (plus a $2 service fee) with all proceeds benefitting the Boys and Girls Club of Santa Monica.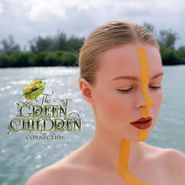 The Roxy show is a release party for their new album, Connection, coming out on July 23. The CD will be available exclusively at Amoeba Hollywood, but you can pre-order signed copies of the album now on Amoeba.com.
The Norwegian duo of Milla Sunde and Marlow Bevan met at university and have been making haunting, ethereal electronic dance music since. Since the beginning, they've had a history of charity work — their first single, "Hear Me Now," was released as a charity single in the United Kingdom and Norway and raised more than $500,000 to help Nobel Peace Prize winner Professor Muhammad Yunus open a hospital in rural Bangladesh. The proceeds from their first record, Encounter, benefitted the Whole Planet Foundation, and they continue to support global (and local) causes with their live shows and releases.
Watch the new video for "Posessed" below.