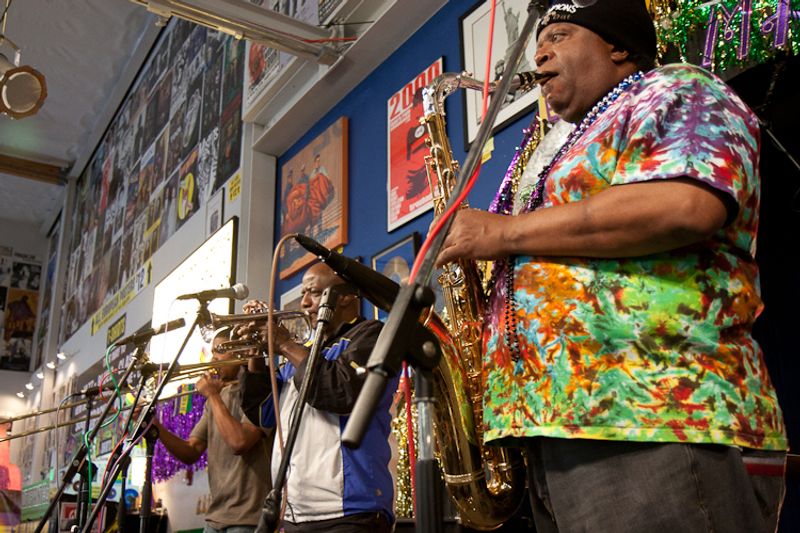 A record number of people came to celebrate Amoeba Hollywood's annual Fat Tuesday celebration. This year saw The Dirty Dozen Brass Band perform live and lead the annual Second Line Parade down the aisles of Amoeba.
The band brought New Orleans cheer to the store, getting the family-friendly audience dancing in the aisles with their influential funk-infused jazz style. Some attendees showed up in Mardi Gras costume, including a quartet of girls in white dresses spattered with fake blood — maybe it's a True Blood thing, I'm not sure.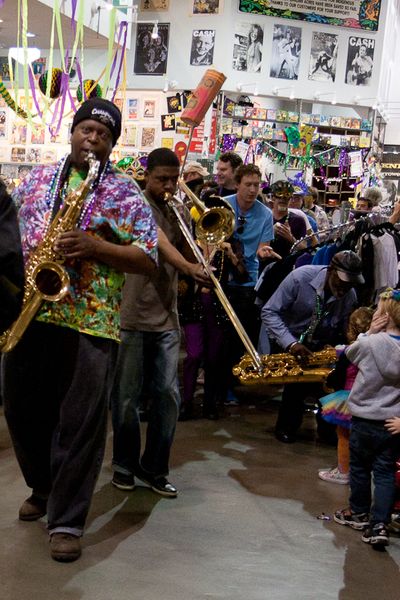 While homemade floats, masks and beads floated around the audience, the extraordinary musicianship on display wasn't lost on the audience. A sax solo introduced the band's second song, breaking out into a drum solo before returning to the song and drawing huge applause. They got the audience clapping to what I thought was a standup bass but was actually DDBB's tuba player playing a rubbery bassline. They thanked the audience and Amoeba as they capped off 36 years as a band before leading everyone through a parade while playing "When the Saints Go Marching In" up and down the aisles.
Amoeba is distributing The Congo Square Project Foundation: Sacred Ground Vols. 1 and 2, the first two of six planned volumes tracing the development of New Orleans music, with all proceeds of the sale benefiting New Orleans relief efforts. Additionally, a portion of all proceeds for the day (including sales on Amoeba.com) went to Tipitina's Foundation, which seeks to preserve Louisiana and New Orleans' musical heritage, and New Orleans Musicians' Clinic, which is dedicated to providing affordable healthcare to New Orleans musicians. A total of $3,000 was donated from Amoeba's revenue Feb. 12, adding to the $1,400 raised through a charity auction held at Amoeba Hollywood Feb. 2 ($700 was raised from auction sales, with a $700 match from Amoeba), for a combined total of $4,400 sent to the two charities.
Watch The Dirty Dozen Brass Band lead our second line parade through the aisles at Amoeba Hollywood:
See more photos of the day here.