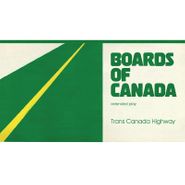 This week's Weekly Wedensday Steal is Boards of Canada's Trans Canada Highway, regularly $19.98 and on sale for $10 on vinyl.
The 2006 EP from the acclaimed electronica duo includes the single "Dayvan Cowboy," a dayglo wash of synths and electric guitars, as well as four more songs and a remix including "Left Side Drive," which was later covered by Solange. It was the last thing released by BOC before their most recent album, 2013's Tomorrow's Harvest.
A bit about our Weekly Steal: A new item is featured on Amoeba.com every Wednesday for $10, while supplies last. It's limited to one per customer, and the deal is only available on the website. As always, there's free shipping on all music and movies you buy on Amoeba.com throughout the United States.
Watch "Dayvan Cowbow," which was the band's first-ever video, below: