Who else hasn't thought of anything to get their significant other for Valentine's Day?
V-Day is a tough one. You don't want to go too extravagant 'cause hey, there's still birthdays and other holidays to think of. But a lil' something is nice too! Well, let us help you figure out how to find that perfect cool gift for Valentine's Day that says "I didn't go to Rite Aid at the last minute to get you chocolates, I actually put some thought into this." Here are 10 ideas for a nice Valentine's Day gift.
Through this Sunday, we're having a sale for 20% off all turntables at all three stores. Plus, when you buy a turntable this weekend, you'll get a $10 gift certificate for used vinyl to start that collection. Either our Red Essential II turntable or red and white Crosley Executive turntable (as pictured above) make for a thoughtful Valentine's Day gift that will last. They're some of the nicest and certainly most aesthetically pleasing turntables we carry — they're statement pieces as well as a great way to listen to music.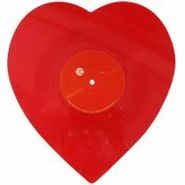 Heart-Shaped Vinyl