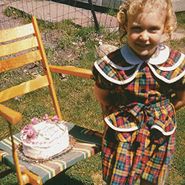 Two veterans of the Bay Area shoegaze band Whirr make a wistful indie-pop record together that recalls the best of Sarah Records. Alexandra Morte's vocals call to mind a young Bilinda Butcher of My Bloody Valentine, singing dreamily over acoustic guitars and light orchestral touches with cohort Nick Bassett. While it may not be the most original sound, Camera Shy's eight songs are charming and sophisticated, emanating weary beauty on the rainy "Seemingly Ill" while charging through sunny environs on the jangly "Remember." For fans of this kind of thing, Camera Shy are one of the best new bands around.
Titus Andronicus - The Most Lamentable Tragedy
Patrick Stickles and co. return with an epic set of fist-pumping post-hardcore anthems. Centered around "Our Hero," The Most Lamentable Tragedy allows Stickles to remove himself to a degree from the narrative, and the result is that he sounds more liberated than ever, bellowing through self-effacing, existential tales of despair and coming out fighting. Despite its mammoth run-time and vague concept, The Most Lamentable Tragedy has plenty of scream-along moments, notably in the run of pub rock ballad "Mr. E Man" runs into the shake-you-by-the-shoulders fury of "Fired Up" and quick punk workout "Dimed Out" at the album's core. The only real tragedy here would be getting scared off by the album's length. It's at once an exhausting listen and one that leaves you feeling energized and ready to fuck shit up.