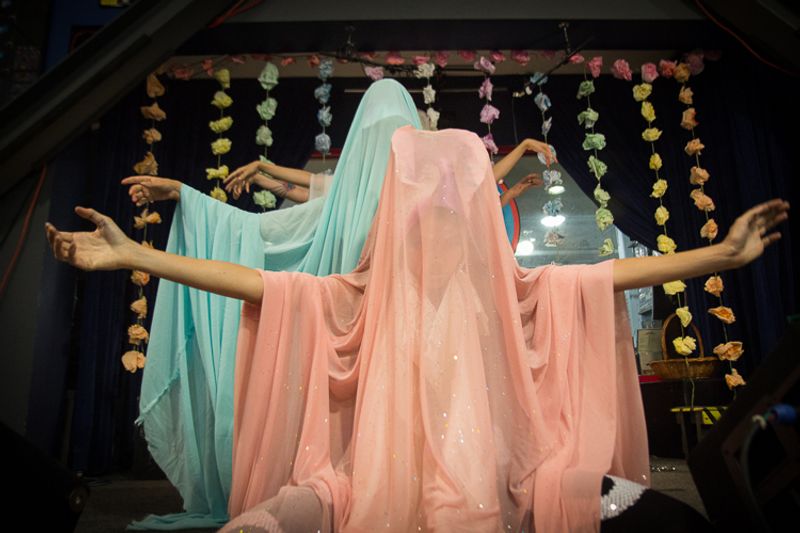 Photos by Furn Zavala
Dubbed an "inter-dimensional pop star," Diva has long been one of the most intriguing figures in the L.A. post-punk and minimal wave scene. She showed up at Amoeba Hollywood Sept. 8 to perform songs from her latest release, Divinity in Thee, which is full of imaginitive D.I.Y.-style electro pop gems and was just released on Peanut Butter Wolf's Stones Throw imprint Circle Star.
Everything about the performance was transportative. She emerged with a bevy of dancers draped in pastel veils that made them seem like spectral brides, or a neu-age version of the fairies from Sleeping Beauty. She engaged the audience in a legit meditation session, using the correct lingo and everything. To my knowledge, that was an Amoeba first. I have to admit I didn't participate or I would've ended up drooling all over the rock clearance section.
After getting the audience in touch with their "inner divinity," as she calls it, Diva launched into a track with Indian-inspired dance and vocals, stringing together wonderful phrases like "celestial shrapnel" and "cherubim chakras" (I think) over a minimal electronic backbeat. The dancers' movements revealed shimmer in the dancers' dresses, their otherworldly appearances combining with the airy music to give off a feeling that was both alien and strangely soothing.