Too much has been written about Led Zeppelin's untitled fourth album. Its songs have so permeated every pore of popular culture that it's nearly impossible to think of it with a clear head. But its ubiquity should not count against it.
Led Zeppelin IV is as wonderful and album to revisit on its new reissues as it is to discover for the first time. It is the sound of four of the greatest rock musicians of all time at the height of their powers. People who don't listen to this are depriving themselves of rock 'n' roll's greatest thrill ride.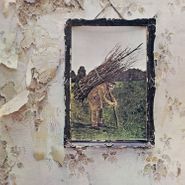 I remember hearing it for the first time when I was 12. My dad bought us the tape to listen to in the car on the way to guitar lessons with my brothers. (Yes, my dad was very cool for getting me and my brothers guitar lessons, but it was his way of making peace with us after he made us move from Southern California to Florida—FLORIDA.)
My older brother was 15 or 16 at the time and immediately fell in love. I didn't. He was at the right age to appreciate. I liked it all right, but I kind of shrugged. Led Zeppelin sounded so old to me, and too boyish. It was 1994, and I was too busy listening to Green Day, The Cranberries, Nirvana and Stone Temple Pilots, my taste leaning toward punk-influenced grunge and female-fronted bands. My brother played that tape incessantly in the car, and we didn't get along too well at the time, as teenage brothers often don't, so I kind of hated it sometimes, to be honest. And there Led Zeppelin remained for me, a relic to be vaguely appreciated but not loved.