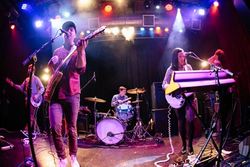 Cocktails play a whimsical, harmonic, fuzz-and-synth-laced brand of power pop with boy/girl harmonies that harkens back to bands like Imperial Teen, The Rentals and that dog. They bring the catchy, garagey goods in healthy doses on their debut album, Adult Life, which is out now. Catch the band live at Amoeba SF Jan. 31 at 2 p.m. and get a FREE Converse Rubber Tracks split 7" with Windham Flat, who recently played Amoeba SF as well.
We took a minute to speak with Patrick Clos, frontman for Cocktails:
Have you guys seen the nature of the SF music scene change along with its changing demographics? Are kids still coming to rock shows?
Patrick Clos: For sure. There definitely used to be a lot more like local, scuzzy guitar rock/garage/psych type bands playing around and such, but you know how it goes—there's no longer rooms for like $500/month and such. But still, between here and Oakland, there's no shortage of rock bands.