December often doesn't have the same number of big new releases as other months. But in this age of Beyonce-ing albums at the end of the year, there are still a few winners that slip into the end of the year.
D'Angelo – Black Messiah (CD, LP out 2/10)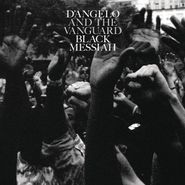 The long-awaited Black Messiah caps off 2014 as the year's best soul album. But to call it soul or R&B would be reductive. Even more so than D'Angelo's previous two albums, the excellent Brown Sugar and neo-soul masterpiece Voodoo, Black Messiah eschews any preconceived notions of what R&B, pop, music in general should be. Black Messiah draws upon a rich history of black music, notably blues, jazz and gospel and funk, and blows them out into billowing, smokey jams that seep under your skin, work their way into your veins. "Ain't That Easy" rides hard on The Vanguard's hip-hop beat and raunchy funk chords, while D'Angelo delivers an impassioned vocal and conciliatory lyrics like a sleek modern-day update of Al Green's "Let's Stay Together." "1,000 Deaths" lays out Black Messiah's other theme, starting with a powerful passage by an African American preacher that rails against the presentation of Jesus as a white savior. Over The Vanguard's stuttering, skronking beat, D'Angelo's multitracked vocal paints a harrowing picture but makes its most memorable couplet a rallying cry for the oppressed ("A coward dies a thousand times/But a soldier only dies just once), ending in an ecstatic, Prince-worthy cry and Hendrixy guitar explosions. Like Erykah Badu's New Amerykah albums, or (aesthetically) like Kanye West's Yeezus, Black Messiah is remarkably adventurous throughout. "The Charade" shuffles along a beat reminiscent of Radiohead's "There, There," dazzles with springs of sitar and builds to a thick climax. Similarly, "Back to the Future (Part I)" and "II" breaks up a future-funk suite about breaking up, keeping you engaged with its heady groove. Black Messiah's more accessible moments make for some of the loveliest songwriting D'Angelo's put to tape, with lush devotionals like "Till It's Done (Tutu)" and "Really Love" and the jaunty alien jazz of "Sugah Daddy" making for perfect mixtape material. D'Angelo definitely kept us waiting a while for this one, but his remarkably consistent catalog to this point shows that the best things come to those who wait. Truly, Black Messiah is a densely layered soul masterpiece.